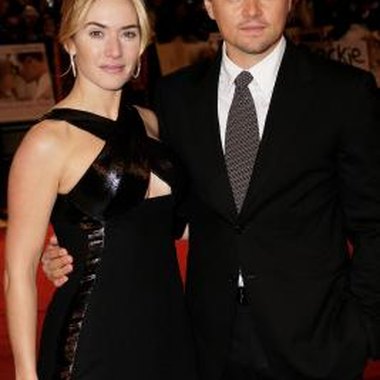 In 2008, Oscar-award-winning director Sam Mendes reunited Leonardo DiCaprio and Kate Winslet for the first time since they appeared together in "Titanic." Based on the novel by Richard Yates, "Revolutionary Road" tells the story of a young married couple in the 1950s who watch their love die and their lives fall apart.
The Cast of Characters
Leonardo DiCaprio and Kate Winslet star in the movie, although the only Oscar nomination for an actor went to supporting actor Michael Shannon. DiCaprio portrays Frank Wheeler, a salesman working for the same company for which his father worked. Winslet portrays April, his wife who remains at home as a housewife. Also starring in the movie is Kathy Bates as their realtor and Michael Shannon as her son John, a mentally troubled young man incapable of holding his tongue.
Living in the Suburbs
The main theme of the movie is the complacency of living in the suburbs, conforming to a specific way of life and fitting into society instead of following your dreams. Director Sam Mendes shows this in great detail when showing scenes of Frank heading to work, surrounded by men dressed identical to him, no one standing out and everyone blending in together. This is especially hard on April, who wants to be an actress, but the only acting she does is pretending to be a content housewife.
The Collapse of the American Dream
While Frank and April start to become unhappy in their marriage, they deal with it in different ways. Frank hates his job, but feels trapped because he and April have two children to raise; he begins an affair with a coworker. April wants to move to Paris to spark something to help both of them reach their dreams and be happy, but when Frank gets a promotion, it makes him leery to leave. By achieving the American dream, the good luck entraps them deeper into their loathed lives.
The Deterioration of the Family Unit (Spoilers)
Frank continues an affair with his coworker despite wanting to hold onto his marriage and children, while April continues to feel disenfranchised. April ends up pregnant, and while Frank wants the baby, April wants to have an abortion. John and his parents come over for dinner, and he verbally attacks them, saying Frank got her pregnant to keep her from leaving and she remained pregnant to continue to stifle her dreams. April ends up waiting until Frank leaves for work the next day and attempts a self-abortion, dying in the process, leaving Frank alone to dedicate his life to his children.
References
Photo Credits
Dave Hogan/Getty Images Entertainment/Getty Images