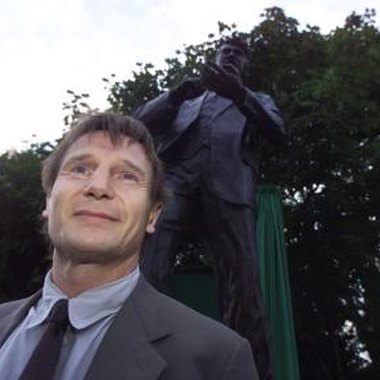 The 1996 award-winning film "Michael Collins" stars Liam Neeson as a famed Irish revolutionary fighter during the Irish Civil War. The film was hugely successful in Ireland, one of the top-grossing films of all time in the country. The movie, while based on historical events, including the formation of the IRA, fictionalized a number of events to make it more relatable worldwide.
The Cast of Characters
"Michael Collins" stars a large number of well-known actors in various roles. Irish actor Liam Neeson portrays Michael Collins, while Julia Roberts stars as his fiancée. Other big-name actors appearing in the film are Aidan Quinn, Stephen Rea, Brenda Gleeson and Alan Rickman. While not all the actors cast possessed the Irish blood of the characters they represented, the film retained a solid cast regardless.
Bookending the Plot
The film begins with Michael Collins, lying on his death bed, as his fiancée, Kitty, sits by his side. To help console her, Collins' associate Joe attempts to ease her pain with tales of Collins' historic feats. During the war, Collins, his friend Harry Boland and leader Eamon de Valera surrender to the British, but all make it out of the predicament alive. The movie tracks the conflicts that Collins and de Valera have in regards to their beliefs of the best way to help Ireland gain its freedom, including the formation of the deadly IRA.
The Irish Civil War (Spoilers)
After Eamon de Valera orders Michael Collins to travel to Britain to sign a treaty to end the war, de Valera betrays Collins trust and declares further war on Britain. The British government informs Collins that if he does not stop de Valera, the British Army will do it themselves. This begins the Irish Civil War, with Collins leading the Irish Free State army into battle with the anti-Treaty forces. Before the two sides can agree on a treaty for peace, anti-Treaty forces ambush Collins and assassinate him.
Historical Inaccuracies
The filmmakers based much of the movie on factual events, but there are inaccuracies concerning various characters, making the movie slightly controversial upon release. One of the major changes from history is killing Harry Boland in the movie, as the man did not die in real life the way he did in the movie. His murder in the movie charged Collins with demanding an end to the battles -- good for the story, but unreliable for historical accuracy. Another large change was the way the film depicted Eamon de Valera, who was a much stronger man than the film portrayed him.
Photo Credits
Joe Dunne/Getty Images Entertainment/Getty Images