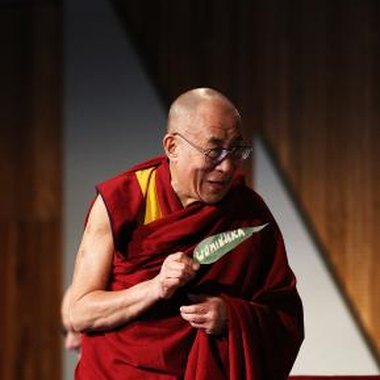 "Jesus in India" -- a 2008 TV documentary written and directed by Paul Davids -- examines evidence that, according to some people, proves Jesus once lived in India. The 97-minute film is centered around author and scholar Edward T. Martin's search for a lost manuscript. Davids interviews biblical scholars and modern religious leaders and takes a look at the issue through the lenses of several religions.
Nagging Questions
The film opens with Edward T. Martin explaining why he was ousted from his post as a minister at a fundamentalist Texan church for daring to ask questions about the so-called "missing years" of Jesus' life. Martin points out that there are 18 years that the Bible fails to account for. Troubled by this gap, Martin sets out on a journey across several continents to speak with religious figures, to visit important sites and to consult with top scholars.
The Journey Begins
Martin's research on Jesus' life, and his theory that Jesus spent time in India, led him to interview Princeton professor Elaine Pagels, psychiatrist Dr. Paul R. Fleischman, Muslim scholar Arif Khan, Rabbi Yitzchok Adlerstein and others. Martin's search takes him to Tibet -- where he believes a long-forgotten manuscript about Jesus' life is hidden at the Hemis Monastery -- before India. During his time in Tibet, Martin interviews the Dalai Lama about the subject.
Indian Discoveries
Finally, Martin makes it to the former site of Murree, India -- now part of Pakistan -- where, he says, Jesus lived during the missing years. In addition to claiming that Jesus lived here as a child, Martin says that Jesus fled to Murree along with his mother, Mary, after surviving the Crucifixion. According to Martin, Jesus and Mary are both buried in India, though he is not certain exactly where.
Spreading the Word
To get his message out, Martin mortgages his house so he can publish a book about his travels. Eventually, Davids -- known for his work on controversial documentaries such as "The Sci-Fi Boys" and "Roswell" -- came across the book and thought that Martin and his work would make commanding subject material. The documentary premiered on the Sundance Channel in 2008.
Photo Credits
Graham Denholm/Getty Images News/Getty Images