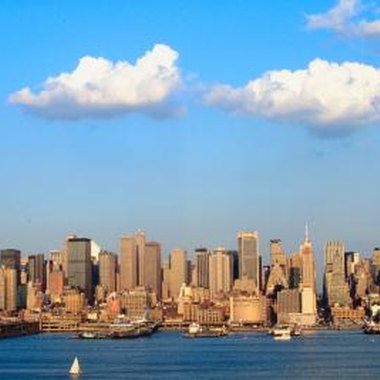 "Green Card" is a romantic comedy directed by Peter Weir. The film was released in 1991, hot on the heels of Weir's international success with "Dead Poet's Society." Casting French actor Gerard Depardieu in his first English-speaking role alongside American actress Andie MacDowell was seen by some critics as something of a daring move. Weir adds a twist to the typical romantic comedy plot by starting with a marriage rather than ending with one.
The Couple
Depardieu plays Frenchman George Faure. George is offered job in the United States, but in order to take the job he needs to obtain a green card. The easiest way to get a card is by marrying an American. Bronte Mitchell, played by Andie MacDowell, is a New Yorker and a keen horticulturalist. When she finds an apartment with its own greenhouse she desperately wants it -- the only problem is the apartment is only available to married couples. The solution to George and Bronte's problems is for them to get married.
The Introduction
Bronte's friend Antoine introduces her to George, and it is Antoine who suggests marriage as the solution to both their problems. The two meet in a Manhattan cafe and after a short discussion agree to marry. The marriage takes place at a nearby courthouse. But Bronte will not share her dream apartment with George. When she moves in she tells her neighbors that her husband is in Africa doing research. An inspector from the immigration service appears to question her and Bronte has to track down George, who is working as a waiter.
The Interview
Bronte and George almost manage to get through the interview with the immigration officer, until he asks for the bathroom and George directs him into a closet. Suspicions aroused, the official schedules another interview for a fortnight later. On her lawyer's advice, Bronte asks George to move in with her. They are a total mismatch and can't tolerate each other. However, a dinner party changes their views.
The Dinner Party (Spoiler)
The parents of Bronte's friend, Lauren, want to donate their trees and plants to a group that develops inner city parks. Lauren invites Bronte and George separately to a dinner to discuss the issue. George plays a piano composition about children and trees that impresses everyone, even Bronte. Bronte's boyfriend returns to New York and George moves out, although Bronte agrees to continue preparing for the immigration interview. At the interview, George admits the marriage is a fake and he faces deportation. At their final meeting, just as George is being sent back to France, they admit they love each other.
Photo Credits
Jupiterimages/Photos.com/Getty Images