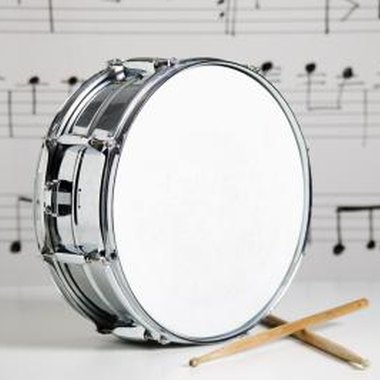 "Drumline" is a film released in 2002 by 20th Century Fox. It was directed by Charles Stone III and stars Nick Cannon, Orlando Jones and Zoe Saldana. The movie focuses on a drummer as he enters a university's drumline team. There he meets new friends, and he butts heads with other classmates and his coach.
Character
The film's main character is Devon Miles, a freshman at Atlanta A&T; University. Devon is an incredibly gifted snare drum player, but h's arrogant and overconfident in his abilities. His coach, Dr. Lee, is strict about the rules. He understands just how gifted Devon is, but he doesn't think he's realizing his potential. Devon's new friends include a bass drum player, a tuba player, and Sean Taylor, Devon's percussion leader.
Love Interest
As he spends time at A&T; University, Devon begins to fall for Laila, an upperclassmen dancer. Their relationship starts out casual, but it slowly builds into love. Devon almost ruins this relationship because of his arrogance, as he is constantly trying to prove to Laila and everybody else that he is the best.
Plot
The film follows Devon from his first day as a freshman. Initially, he can't seem to get along with anyone, and he has problems with his coach and with his percussion leader because he thinks he is better than them. Though Devon has incredible talent, he can't read music, which his coach finds unacceptable. Lee demands that he learn to read music or else he can't be on the team, but he refuses.
Conflict
Lee kicks Devon off the team after he shows off in the middle of a competition. Devon receives an offer from Mr. Wade, the coach at Morris Brown College, a competing university. Devon refuses, though he is hesitant. Eventually, he gets his priorities sorted out. He learns to read music, and he collaborates with Sean to write a piece for the team "The Classic," the biggest drum competition in the country. Devon also mends his relationship with Laila, learning to put her first.
References
Photo Credits
Jupiterimages/liquidlibrary/Getty Images