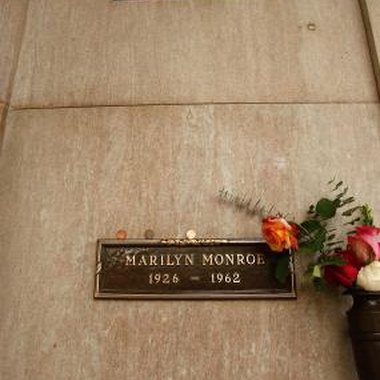 "The Last Take" is a 1992 biography about the period of Marilyn Monroe's life just before she died. Written by two journalists, Peter Harry Brown and Patte B. Barham, the material makes a compelling case for several conspiracy theories that suggest Monroe did not commit suicide or accidentally overdose on drugs, but was instead murdered to protect those in power.
Summary
"The Last Take" is a biography amount Marilyn Monroe that substantially focuses on the actresses' final days before her untimely death from an accidental overdose in August 1962. Published in 1992, the title of the book reveals the authors' intention to explore Monroe's life in the context of her last film, aptly named "Something's Got to Give." That film, which remains unfinished due to Monroe's death, was plagued by production problems because Monroe would frequently call in sick to the set or show up unable to perform due to her physical health, emotional imbalance (due to her personal life) and purported prescription drug abuse.
The Kennedys
Like many Marilyn Monroe biographies, "The Last Take" delves into Monroe's relationship with then-President John F. Kennedy and his younger brother, Robert Kennedy, Jr. When JFK wanted to end his romantic fling with Monroe, he sent Bobby Kennedy to bid her farewell only to find, as the story goes, the younger Kennedy bother fall in love with Monroe himself. Eventually, the Kennedys needed to cut all ties with Monroe; a directive that Monroe did not take well and sent her into an emotional tailspin. "The Last Take" suggests that Monroe's death, which was ruled a suicide, may have been a politically motivated murder with a cover-up reaching to the highest levels of law enforcement -- all designed to protect the Kennedy Administration.
Firing
"The Last Take" goes to great lengths to explain why Monroe was fired from her last film by 20th Century Fox and the further emotional turmoil that resulted for the starlet. That summer, the studio twas also filming "Cleopatra" starring Elizabeth Taylor and Richard Burton. Concerned with skyrocketing production costs on the set of "Cleopatra," the studio was unwilling to continue to tolerate Monroe's frequent set absences or to lose any further money on "Something's Gotta Give" on Monroe's account.
Archives
The authors of "The Last Take" had rare and vast access to 20th Century Fox's archives while writing the book. The result is a troubling look into how movie studios were run, and how stars were treated, in the 1960s.
Resources
Photo Credits
Michael Buckner/Getty Images News/Getty Images