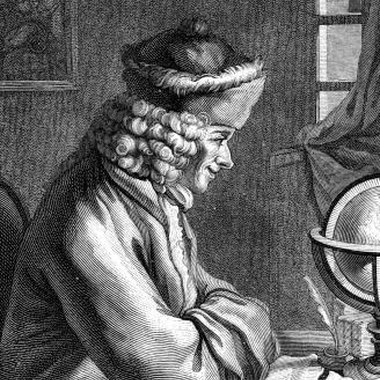 The French philosopher Voltaire lived in England between 1722 and 1734 and, upon his return to France, he published "Lettres Philosophiques" ("Letters Concerning the English Nation") in both English and French. He did write versions in both languages, although, interestingly, the English versions you find in bookstores use a translator's work on his French version rather than his English one.
Religion
The first seven of the 24 letters focus on religion: the Quakers, the Anglican church, the Presbyterians and the Anti-Trinitarians. Four of these letters are all about the Quakers, whose simplicity made a deep impression on him. Voltaire found the Anglican church superior to the Catholic church in France, because of the relative morality of the English ministers. He found the Presybterian church to be excessively strict and "sour" in outlook. The Anti-Trinitarians were deists, as was Voltaire -- and Locke and Newton, and so he praised their views as logical.
Politics and Political Practices
Two letters cover the English government, one focusing on the British Parliament (remember, this was six decades before France's violent encounter with democracy) and the judicial system. The second letter focuses on the Magna Carta, which, at the time, was over 500 years old but still was a pioneering document in granting rights and equality. Trade and commerce and the connections to politics occupy a letter. In Voltaire's view, the opportunities that came with the wealth of trade gave England its access to freedoms.
Science and Art
One letter is devoted solely to the praise of giving shots to prevent the spread of disease. At that time, shots were feared in the rest of Europe because they exposed patients to the disease itself. In 1723, though, smallpox had killed 20,000 Parisians, leaving Voltaire with strong opinions about the alternatives. There are seven letters about art -- three about the genres of tragedy in drama (focusing on Shakespeare), comedy and the letters written by nobility. Jonathan Swift and Alexander Pope's writings each merit a letter, as does the English method of financially supporting their famed writers (the French didn't), and the Royal Society of London, which oversaw formal art at the time.
Other Famous Englishmen
The British thinkers Francis Bacon, John Locke and Isaac Newton each were the topic of letters in this collection -- with Newton garnering three letters based on his laws of attraction and optics, and ideas about what will happen at the end of time.
Photo Credits
Photos.com/Photos.com/Getty Images