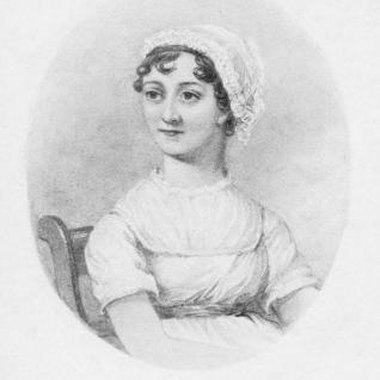 "Jane Austen and the Mistletoe Kiss" is a fictional romance by Jo Beverly, a contemporary author of historical romance. This short story appeared in the Times Colonist, a newspaper of Victoria and British Columbia, Christmas week 2004. The story includes Jane Austen, the renowned 18th-century novelist and poet, in a supporting cameo role.
Time and Place
The setting of "Jane Austen and the Mistletoe Kiss" is Christmas Eve, 1816. At this time, Jane Austen would have been 41, during the last Christmas before her death. The story takes place in Chawton of Hampshire County, England, where she spent her final years.
Characters
Elinor Carsholt is a 36-year-old widow with three girls; Amy, the eldest, is 17. Elinor and her daughters survive on a meager financial provision from her husband's estate. Following her husband's death the previous January, the ladies live rent-free in a cottage provided by her husband's distant cousin, Sir Nicholas Danvers. Sir Nicholas' younger brother, Captain Charles Danvers, is a hero of the battle at Waterloo, and has come home for the holidays. Jane Austen is friend of Sir Nicholas, who is a reader of her novels. Elinor disapproves of the romance novelist's profession and disbelieves in the "romantical" ideas of penniless ladies getting to marry the wealthy men.
Future Planning
As Elinor prepares dinner, she contemplates her situation as an older woman with children and realizes that she has no prospects for marriage to create a better life for them. After a basket of food is delivered from Sir Nicholas' estate, Amy begins talking about how wonderful he's been to them, causing Elinor to suspect her daughter of romantic notions toward the 31-year-old gentleman.
Random Meeting
Elinor and her daughters go out walking in the search of mistletoe and ivy for holiday decor. Amy insists on obtaining mistletoe from the orchards at Sir Nicholas' estate, causing Elinor to suspect that Amy has planned a lover's meeting. Along the way, Elinor and her girls encounter Jane Austen. Margaret, the youngest child, informs Miss Austen that they are on their way to get some mistletoe. This sparks a conversation where Elinor declares that she's too old for the custom of mistletoe kisses.
Discovering the Truth
Once in the orchard, young Captain Danvers is announced by Amy in a nanner that crushes Elinor's hopes for her daughter marrying the financially secure Sir Nicholas. Elinor sees Sir Nicholas enter the orchard and realizes that secretly wanted him for herself. Sir Nicholas invites Elinor to his home for a Twelfth Night party, making her aware that he'd been waiting for her to come out of mourning. Recognizing that Amy, Captain Danvers and possibly Jane Austen each had a hand in this moment, she steps under a sprig of mistletoe, accepting the invitation and a kiss from Sir Nicholas.
Photo Credits
Photos.com/Photos.com/Getty Images