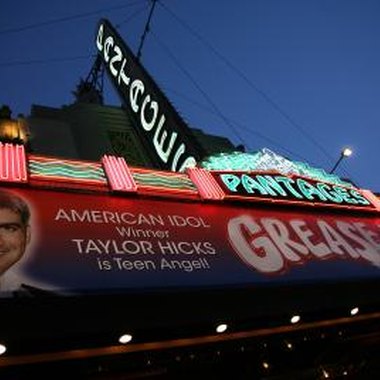 "Grease" by Jim Jacobs and Warren Casey opened in 1971 in Chicago and premiered on Broadway in 1972. The musical, set to a rock-and-roll score, explores the joys and pains of high school as portrayed by members of two gangs in the 1950s. As of 2011, "Grease" is Broadway's 13th longest-running musical, with more than 3,300 performances. The 1978 film version earned almost $400 million worldwide.
"Grease" Synopsis
Members of the Burger Palace Boys, led by Danny Zuko, and the Pink Ladies, led by Betty Rizzo, meet the new girl Sandy at the start of school. Attracted to her wholesome ways during the summer, Danny now rejects Sandy to protect his macho image. Mocked by Rizzo and her group, Sandy struggles to belong. Alone on the night of the big dance, Sandy thinks about Danny, while he wins the contest with another dancer. Danny tries to apologize and feels hurt when Sandy refuses his advances at the drive-in. Rizzo frets about a possible pregnancy and rejects Sandy's concern. Sandy gains more self-assurance and transforms herself into the perfect gang member, Rizzo learns she is not pregnant and Sandy and Danny reconcile.
Danny Zuko
Hot-shot Danny relished his cool image until he met Sandy during the summer months. Once back in school, Danny reverts to his macho stance. In the song "Summer Nights," he brags to the boys that Sandy was "easy," while Sandy tells her side of the story to the girls. After hurting her feelings, Danny is torn between maintaining the macho image that makes him popular and trying to patch things up with Sandy.
Sandy Dumbrowski
The new girl at Rydell, Sandy, is a goody two-shoes who never smokes, drinks or swears. Rizzo ridicules her in the song "Look at Me, I'm Sandra Dee." After Danny rejects her and virtually no one befriends her, shy and insecure Sandy gains the confidence to transform herself into an assertive, sexy young woman to win him back.
Betty Rizzo
Rough, sassy, yet vulnerable, Rizzo leads the Pink Ladies, the female version of the Burger Palace Boys. Known as the girl with a "reputation," Rizzo hides her true feelings for Danny by dating Kenickie. When she thinks she is pregnant, Rizzo expresses her loneliness and fear in the song "There Are Worse Things I Could Do."
Versions
The film version of 1978 changed the name of the gang from the Burger Palace Boys to the T-Birds and eliminated some songs and replaced them with new ones. Some revivals of the musical have incorporated the film's changes. Jim Jacobs also wrote a G-rated version of the musical specifically for use in high school productions. He deleted the scenes about Rizzo's pregnancy and references to teenage drinking and smoking. Songs were also edited or eliminated.
Photo Credits
Angela Weiss/Getty Images Entertainment/Getty Images