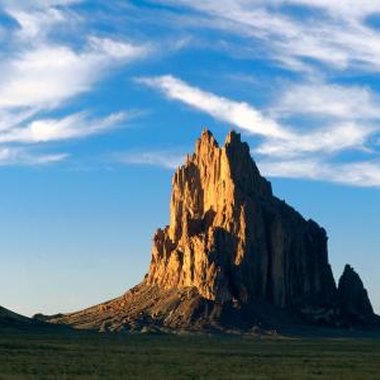 Tony Hillerman's "Dance Hall of the Dead," first published in 1973, is classic of the crime suspense genre, winning the Mystery Writers of America's Edgar Award the very next year. It was Hillerman's second in a series of detective dramas set within the Navajo Tribal Police. It chronicles the apparent murder of a Zuñi Indian teen by his friend, a Navajo.
General Plot
Lt. Joe Leaphorn of the Navajo Tribal Police helps to find two teenage boys who disappear from a Zuñi reservation -- then investigates the death of one of the boys, a Zuñi Indian. Eventually found, the other boy, raised among the Navajo's dwindling traditions, becomes Leaphorn's chief suspect. Evidence shows the boy to envy how the Zuñi culture had maintained so many of its customs and beliefs, much of which the Navajo cannot experience because of Zuñi traditions that bar outsiders.
Main Characters
Leaphorn's inquiries into the lives of the two boys form the spine of the narration of "Dance Hall of the Dead." The story delves deeply into the differences in the two tribal traditions as well as the erosion of both due to the dilution of manifest destiny. Several other characters factor into the story as important secondary figures. These include the foolhardy FBI Agent O'Malley who remains largely ignorant of the deep spiritual meaning behind what he sees; Leaphorn's wife, a student of Zuñi culture who guides him through some of the more complex situations he encounters; and Chester Reynolds, a professor of archaeology, called beyond his ordinary life void of spirituality.
Native Beliefs
The descriptions of Native American life and religion in "Dance Hall of the Dead" earned Hillerman -- who is not Native American -- official praise from the Navajo Tribal Council. After finding the Zuñi teen dead, Hillerman delves into how many of the Zuni were inclined to blame a spirit, or kachina, that came into being when the Zuni boy shared sacred secrets of Zuni tradition with his Navajo best friend. Leaphorn, of course, kept the Navajo best friend in his sights as the perpetrator, regardless of what kachina was present at the scene of the crime.
Tribal Differences
The Zuni and Navajo people aren't the best of friends -- in the book and in real life. A natural tension emerges at the very beginning of the story when the Zuni Tribal Police call a Navajo Tribal Police detective to assist in the investigation. One of the key subplots is how the missing Navajo, George Bowlegs, feels so detached from spiritual tradition in his own tribe that he delves into the beliefs of the Zuñi to regain a link with his culture.
Photo Credits
Jupiterimages/Photos.com/Getty Images