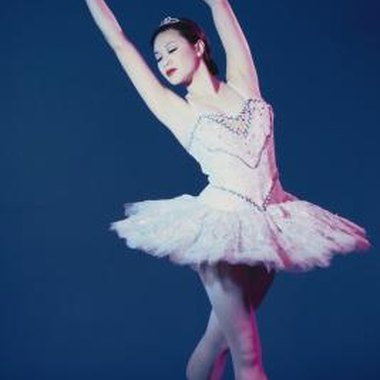 "Coppelia" is a classic comedy ballet initially staged in Paris in 1870. The libretto was adapted by Charles Nuitter and Arthur Saint-Leon after E.T.A. Hoffmann's story "Der Sandmann." Arthur Saint-Leon also choreographed the original production, and Leo Delibes composed the innovative score, which includes Hungarian folk music. The story of dolls come to life, complete with a happily-ever-after ending, continues in performance regularly, including a 2011 presentation by the American Ballet Theatre at the Metropolitan Opera House in New York City.
Act I
The story centers on a life-size doll named Coppelia, created by Dr. Coppelius to be his daughter. The ballet opens on a village square, where the beautiful Coppelia is "reading" on a balcony. Swanilda, a neighbor, tries to get her attention, but, of course, Coppelia doesn't respond. Swanilda's fiancé, Franz, sees Coppelia and blows her kisses. Swanilda confronts Franz, they argue, and Swanilda goes home to sulk with her friends. Franz and his friends head to the Tavern, harassing Dr. Coppelius on the way. Dr Coppelius drops his key, and, not noticing, continues on his way to the tavern. Swanilda sees this, grabs the key and convinces her friends to come with her to confront Coppelia. They disappear into the house. Franz returns to the square and, overcome by curiosity and possibly stupidity, finds a ladder and begins to climb to the balcony to find Coppelia.
Act II
Swanilda and her friends are in Dr. Coppelius' workshop, which is full of life-size dolls, Coppelia among them. They wind up the dolls and dance with them. While they're frolicking, Dr. Coppelius storms in, furious. Swanilda's friends flee while Swanilda hides. Franz, who apparently climbs very slowly, appears. Catching him Dr. Coppelius decides to steal Franz's life force and give it to Coppelia. He drugs Franz secretly, proving once again that you should never take a drink from a stranger. The doctor gestures magically and "Coppelia" emerges -- actually Swanilda in disguise. Swanilda dances chaotically and tries to wake Franz. As the doctor tires of "Coppelia's" rebelliousness, Franz regains consciousness and Swanilda shows him the lifeless Coppelia. Franz and Swanilda run out, leaving Dr. Coppelius with his ruined workshop.
Act III
It's the next morning, and we return to the village square. Preparations are well under way for Swanilda and Franz's wedding. Dr. Coppelius storms from his house, furious at Swanilda and Franz. Swanilda's father offers Dr. Coppelius money to pay for his destroyed workshop, and he accepts. With the doctor persuaded to join the festivities, Franz and Swanilda marry and the townsfolk celebrate.
Variations
Each ballet company that performs "Coppelia" interprets the story a bit differently. In some versions, for example, the reason Franz goes to the workshop is to return a book to Coppelia that she dropped off the balcony. Another variation is that Swanilda sees where Dr. Coppelius hides his key, rather than him dropping it while being harassed by Franz and his friends. Some productions perform the ballet in two acts rather than three. No matter which company performs the ballet, however, the happy ending remains intact.
Resources
Photo Credits
Comstock/Comstock/Getty Images