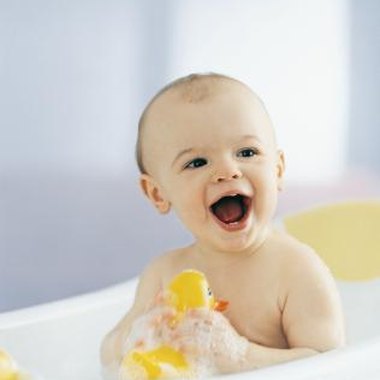 The book "Bath Time" by Naomi Kleinberg is a story in the Sesame Street Beginnings series. Aimed at children between the ages of 12 and 36 months, this book shows babies and toddlers a variety of safe activities to complete while in the bath, all depicted by familiar Sesame Street characters as babies.
Background
Sesame Street Beginnings features Sesame Street characters as babies or toddlers. The program is designed to introduce babies to the world of Sesame Street as well as topics that are of interest to them, such as bathing, bedtime and mealtime. Naomi Kleinberg has written several other Sesame Street books, as well as other books for young children and babies.
Storyline
In this story, the Sesame Street babies prepare for and take a bath. The characters illustrate different bath time actives, such as scrubbing to get clean, playing with water toys and drying off with a towel. Elmo is the main character in the book, but other characters appear as well, including Ernie, Zoe and Grover. The book follows bath time from start to finish.
Interaction
This book is a sturdy board book, sized for small hands. It also offers a few interactive features, such as the ability to touch Elmo's towel when he gets out of the tub. The book is repetitive in nature and the words used in the story are simple.
Safety
"Bath Time" promotes bath time safety, with a hint of adult presence in each picture in the story to illustrate the importance of never allowing babies and toddlers to bathe alone. The characters in the book never illustrate unsafe bathing practices, such as placing their heads underwater when an adult is not present or standing in the bathtub.
Photo Credits
Digital Vision./Digital Vision/Getty Images