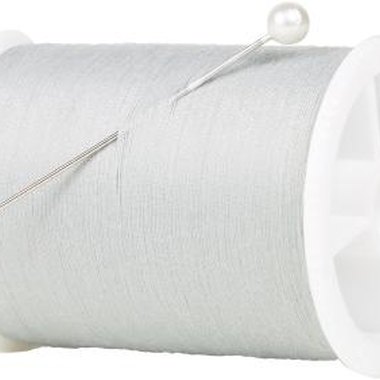 Ann M. Martin is the author of numerous books for children including the well-known "Babysitter's Club" series as well as many standalone books. "Needle and Thread" is the second in Martin's "Main Street" series; the books chronicle the adventures of four girls who live in the fictional town of Camden Falls.
Overview
This novel starts off in September, just before the first day of the school year, and ends at Thanksgiving. Flora and Ruby have been living with their grandmother since the beginning of the summer, when their parents died in a car accident; they are anxious about their first year at a new school. Their grandmother is one of the co-owners of the sewing shop Needle and Thread. Sixth-graders Flora, Olivia and Nikki are in the same class at Camden Falls Elementary School. They love their teacher Mrs. Mandel, and are heartbroken when she announces she will be retiring early -- just before Thanksgiving -- to help her daughter, who is pregnant with triplets; towards the end of the book the girls throw a going-away party for her. While fourth-grader Ruby, Flora's younger sister, is a major character in the book, Olivia's and Nikki's siblings have smaller roles.
Flora
Flora has a difficult time coping with the loss of her parents; she is especially worried about facing all the fall and winter holidays without them, but she finds happiness in being with her friends and in planning events, including the teddy bear class she teaches at Needle and Thread and Olivia's surprise birthday party. She also develops an unlikely friendship with Mary Woolsey (or "Scary Mary"), who does some mending work for Needle and Thread. Flora becomes friends with Mary after finding a picture that shows Mary with her mother as a child. Their friendship reveals a secret and a bit of a mystery concerning Flora's deceased great-grandfather, one that is not solved by the book's end.
Ruby
Unlike her older sister, Ruby doesn't seem quite as haunted by the loss of her parents. She throws herself into every activity she can and is soon busy with dance class and chorus. When she tries out for -- and wins -- the starring role in the school play, it is almost more than she can handle, and her school work begins to suffer. It probably doesn't help that she has a habit of daydreaming in class.
Olivia
Olivia is Flora and Ruby's next-door neighbor as well as the granddaughter of the other co-owner of Needle and Thread. Though she is African-American, this has little effect on her character or the plot; the issue that is troubling her is that her father has recently lost his job and money in the household is tight. As a result, she will not be getting the big 10th birthday party she had hoped for. Her friends fix this by throwing her a surprise birthday party that they hold at Needle and Thread. She also gets exactly what she wanted for her birthday: a pet guinea pig.
Nikki
Unlike the other girls, Nikki does not live in town; she lives on the outskirts with her two alcoholic parents. They don't have a lot of money, and her father can get angry and abusive when he drinks. This school year is better for Nikki since she has become friends with Flora, Ruby and Olivia, but she still has problems. Though her parents initially agree to let Nikki and her sister go trick-or-treating, her father then changes his mind and they are forced to stay home. Nikki is also secretly feeding stray dogs in the area by spending all the money she able to earn on dog food, and her father becomes angry when he discovers this. The bright spot is that on Thanksgiving her father is in a good mood, and the family is able to enjoy the turkey dinner that was anonymously donated to them.
References
"Needle and Thread"; Ann M. Martin; 2007.
Photo Credits
Hemera Technologies/PhotoObjects.net/Getty Images