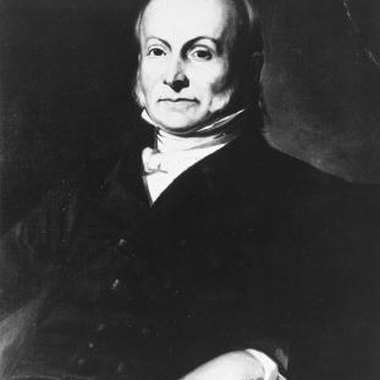 "John Quincy Adams: Policymaker for the Union" is a biographical book by James E. Lewis Jr., a Louisiana State University history professor. The book is a fast read on Adams, as its paperback version is only 164 pages in length. It was published by SR Books in March 2001. The book covers both the successes and failures of John Quincy Adams during his time working in politics.
Presidency
"John Quincy Adams: Policymaker for the Union" covers all aspects of Adams' political career. One highlight was Adams' presidency from 1825 to 1829. However, as Lewis points out in the text, his run as the sixth president of the United States was largely considered a failure. It started off controversially, as Andrew Jackson won the election's popular vote, but still lost to Adams. Things didn't improve from there, as Adams' refusals to compromise wore thin. He eventually lost his reelection bid to Andrew Jackson in 1828.
Secretary of State
The main focus of Lewis' biography is on Adams' tenure as secretary of state from 1817 to 1825 under President James Monroe, which was considered a highlight of Adams' political career. As the secretary of state, Adams helped expand the United States by acquiring Florida. He also helped formulate the Monroe Doctrine, which stated that any European attempts to colonize land in the Americas would be considered aggressive and would require U.S. intervention. This became long-standing foreign policy that was reiterated by many presidents.
Adams-Onis Treaty
The Adams-Onis treaty was signed in 1819 between the United States and Spain, acknowledging the U.S. acquisition of Florida and a boundary line between the two countries. It's detailed in Lewis' biography of John Quincy Adams as one of the more-successful points during Adams' career, as it expanded U.S. territory and put foreign relations between the United States and Spain on good terms.
Studying Adams
John Quincy Adams was considered to be a stubborn man. According to Alibris, Lewis' book is the first biography of Adams to examine how his political views and personality contributed to his successes and failures as a policymaker. For example, compared to other historians, Lewis portrays Adams as a political figure who was far less successful. According to the site, "John Quincy Adams: Policymaker for the Union" is especially targeted toward students studying diplomatic, American or political history.
Photo Credits
National Archives/Getty Images News/Getty Images