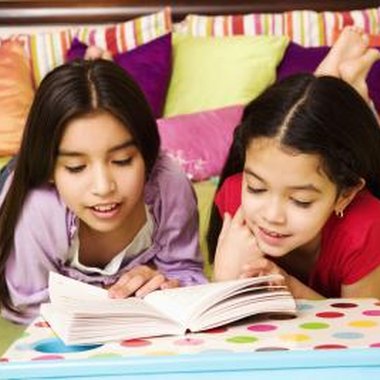 "Drama Queen" is one of over 100 books that children's author Lara Bergen has penned. Her writing career began at a very young age, when she made a coloring book based on "The Little Engine that Could." The fifth book in Bergen's "Candy Apple" series, "Drama Queen" is a Scholastic product.
Plot Summary
The main character, Charlie, and Nicole, her best friend, have decided to try out for the middle school musical. However, Charlie has to bring her young sister to school and keep one eye on her and the other eye on the director. It doesn't help matters that her sister has an imaginary friend. Also, Charlie has a "frenemy" who is on the cast, and a crush on the best looking boy at the school -- who is also musically talented. The star of the show, though, turns out to be none other than Charlie.
Theme: Dealing with "Frenemies"
Most of us grew up with someone like Amber in our classes. She's rude and she has a clique of followers who do whatever she tells them. Charlie succeeds by refusing to get drawn into Amber's dramatic games and continuing to be herself.
Theme: Self-Confidence
When tryouts were announced, Charlie did not want to do them -- it's just the reward of extra credit that lures her to audition, and she can't wait to run out of there when her tryout is over. However, during the story, her trials and experience build her self-confidence tremendously, as they do for all of us.
Ideal Audience
Girls ages nine through 12 (grades three through six) would enjoy reading this book, and it is written at an age-appropriate level in terms of difficulty and content for those ages.
Resources
Photo Credits
Jack Hollingsworth/Photodisc/Getty Images