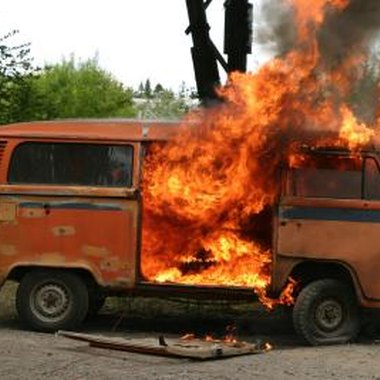 "Children and Arson: America's Middle-Class Nightmare" is a 1984 academic text from researchers Wayne S. Wooden and Martha Lou Berkey. Published by Plenum Press, the 267-page psychology study gives insights into the social problem of arson and why American children and adolescents have turned toward arson as a way of acting out.
Content
"Children and Arson" examines the sociology of arson in the Reagan era, establishing a clear correlation between the financial woes of the 1980s and the rise in incidents of adolescent-perpetrated arson incidents. The authors take a nuanced look into the motives of child and teen arsonists as well as the preventative measures that can be put into effect to stop the destruction. Finally, Berkey and Wooden discuss the various treatment plans and punishments that can be applied to the perpetrators.
Sources
The authors put the book together using statistics and data from the U.S. government, transcripts of Congressional hearings and testimony from experts on the topic. From this data, Wooden and Berkey attempted to analyze the individuals and their individual circumstances; the authors state that a perplexing thing about arson is that -- unlike teenage rapists and murderers -- the perpetrators of adolescent arson are more difficult to profile, both psychologically, socially and economically.
Significance
According to a 1986 review of the book by "The Journal of Criminal Law and Criminology," "Children and Arson" was one of the first books to examine the phenomenon of adolescent arsonists. Although the reviewer from the journal lauds Wooden and Berkey for tackling the subject, he believes that the authors should have included more recent studies. Nevertheless, the book is believed to be a major inspiration for many cities in adopting anti-arson programs.
About the Authors
In addition to his work on "Children and Arson," Wayne S. Wooden had a long career authoring social case studies called "Men Behind Bars: Sexual Exploitation in Prison" (1982), "Renegade Kids, Suburban Outlaws: From Youth Culture to Delinquency" (1994) and "Return to Paradise: Continuity and Change in Hawaii" (1995). Little is known about coauthor Martha Lou Berkey; it seems that "Children and Arson" was her only noteworthy literary achievement.
Photo Credits
Jupiterimages/Photos.com/Getty Images