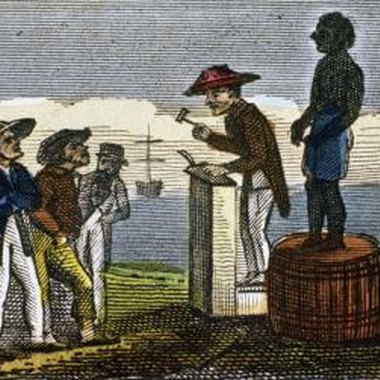 Mark Twain's tale of the Civil War era first appeared in "Atlantic Monthly" magazine in 1874, almost 10 years after Gen. Robert E. Lee's surrender. Twain claims in the title that this story of an enslaved mother's suffering and heartbreak is true, but critics suggest the story may be a product of Twain's imagination and not, as he says, " A true story, repeated word for word as I heard it."
The Question
The narrator, Misto C, is talking with Aunt Rachel, a 60-year-old "colored" servant who sits on a step below him, as befits her position. He describes her as a "cheerful, hearty soul" with a large build, who is strong for her years. Although Aunt Rachel is usually a jolly person, Misto C makes her angry when he asks her, "Aunt Rachel, how is it you've lived sixty years and never had any trouble?" This question prompts Aunt Rachel to tell her story.
Slavery
She describes her birth into slavery and her marriage to another slave who treats her well, just as well as Misto C treats his family, she points out to him. They have seven children, whom they adore; she tells him she would never give her children up for anything. Unfortunately for Rachel, her mistress has run out of money, and announces she will have to sell all her slaves at auction in Richmond. Rachel tells Misto C how distraught she was, because, as she says, "I know what dat mean!"
Slave Auction
Rachel describes the slave auction: the chains, the platform they were all made to stand on and the comments of buyers. First her husband is sold, then her children, until only one -- little Henry -- is left. She tries to hold on to him, and threatens to kill any man that touches him. The child tries to calm her by whispering that he'll run away eventually from his owner and work to buy her freedom. When the boy is sold, she lashes out at buyers with her chains, and is beaten in return. This had happened 22 years earlier, and she has seen only one of her children since.
Reunited (Spoiler)
A Confederate colonel buys Rachel and brings her to Newbern in North Carolina. But when Union soldiers take over the town, Rachel is left behind, and ends up as cook for a group of Union soldiers. These soldiers treat her well, and she hopes that if "little Henry" has the chance to run away, he will come North. One night, during a ball, a platoon of black Union soldiers arrives in town. One of them is her son, Henry. She is reunited with him, but saddened by scars on his wrists and forehead. She finishes her story by remarking, with a touch of irony, "O, no, Misto C --, I hadn't had no trouble. An' no joy!"
Photo Credits
Photos.com/Photos.com/Getty Images