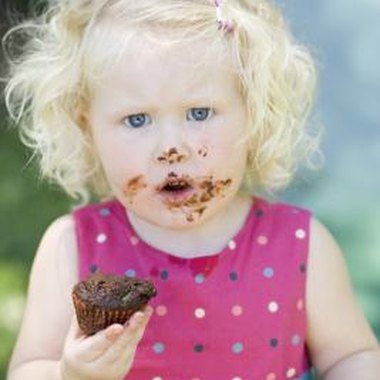 After you've made it through 365 days of constant feedings and diaper changes with little or no sleep, it's time for a celebration. Your child's first birthday may be a big milestone to you, but the reality is that he can't comprehend what all the fuss is about. Although a first birthday is significant, the party doesn't need to be extravagant or large. Think short and sweet when it comes to baby's first birthday party for the best results.
Best Times for a Party
A weekend party that lasts about 60 to 90 minutes is usually a good length of time for a 1-year-old. Plan the party around your baby's napping schedule. For example, if your child normally takes afternoon naps, schedule a party in the late afternoon so your baby will be happy instead of sleepy and irritable. As for the guest list, if your baby is afraid of strange faces, stick to babies in her play group or close friends and relatives.
Party Themes
Your child doesn't have any preference when it comes to a party theme, so select one that you like. Some party theme choices include an alphabet theme, primary color theme, zoo animal theme or farm animal theme. Another option is to use the number 1 throughout your party decor. Decorate the room with balloons, streamers and dinnerware that matches your theme.
Party Foods
A first birthday party calls for food that is simple to hold. At this age, some babies have a few teeth while others are completely toothless, so its best to have food for both types of guests. Miniature peanut butter and jelly sandwiches cut into shapes like stars, circles and hearts are party favorites at this age. Pasta spirals with small cubes of cheese also work well. Offer children's animal crackers to munch on between activities. Keep spills to the minimum with miniature fruit juice boxes. Your mini guests will enjoy having an array of colors, textures and tastes in their food choices. Expect this part of the party to get a little messy with food on clothing, the floor or little faces. Some parents prefer serving cupcakes instead of the traditional birthday cake because its easier for little ones to handle.
Party Activities
Your baby and her little guests will enjoy activities that are simple and without loud noises. Little ones will enjoy dancing with their mom or dad while nursery rhyme music is playing in the background. Games like peekaboo are also fun at this age. Another activity your mini guests may enjoy is to hide small stuffed animals under a cloth on the floor and tell them to try to find them.
References
Photo Credits
Pixland/Pixland/Getty Images