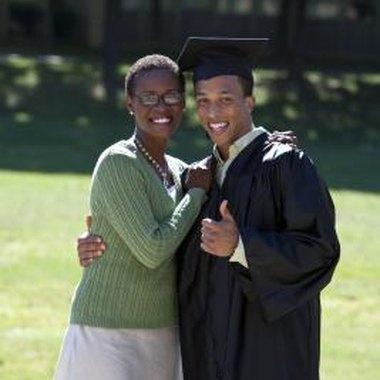 Graduation invitations aim to express two sentiments at once - a celebratory feeling and a feeling of significance. This complex message makes the exact wording for individual graduates difficult to accomplish. Your invitation can be a mix of casual and formal to help express both messages at once. The best invitations communicate the message while remaining personable and welcoming.
Young Students
Casual and playful wording can be used for graduation invitations celebrating elementary and middle school students. This style falls along the lines of "Hats off to our little Jeffrey, who learned his colors, numbers and ABCs," or "Help us celebrate our little graduate, Michael Anthony, who mastered the material of fourth grade and is moving onto middle school." You can also choose to keep it simple with something more along the lines of "Come help us celebrate the bright future of our baby girl, Samantha Marie, graduate at Louis Armstrong Montessori School...."
High School
Teenagers graduating high school and preparing for college require a more formal approach. Wording for a high school graduation should fall along the lines of: "We look forward to the future, and simultaneously reflect on the moments that delivered us here. You've shared in these moments, and with great pride we request your presence at the graduation of our daughter..." Your wording in a high school invitation should reflect the hard work accomplished but also the excitement of the future, marking college as the milestone it represents.
College
In college, students study to enter their area of expertise in the professional world. Graduating from college at the undergraduate and graduate level is a serious accomplishment that should be reflected as such on the graduation invitation. For a mature and sophisticated card, word it along the lines of " Please join us to celebrate the graduation of our daughter, Jane Lewis, from the University of Pennsylvania, with a Bachelor of Science..." Name specific degrees and accomplishments in a college invitation so that guests know details about the person they're celebrating. If you want to get fancy with your wording, try something like "The President, the faculty and the graduating class of the University of California, Berkeley, announce the graduation of....with a Bachelor of Science Degree in Criminal Justice, with Honors..."
Details
The way you write the details of the graduation ceremony and reception make a difference to the overall wording. Unlike party or other invitations, graduation invitations traditionally spell out each word in a formal manner. For example, write the following at the end of your personal message: "Saturday, the nineteenth of December, two thousand and eleven, at 13 Holloway Drive, six thirty p.m. RSVP Dan and Ashley by the fourteenth of December, [contact number]." If the graduation reception is the same day as the ceremony, write "Reception immediately following..." and fill in the details.
Photo Credits
Comstock Images/Comstock/Getty Images