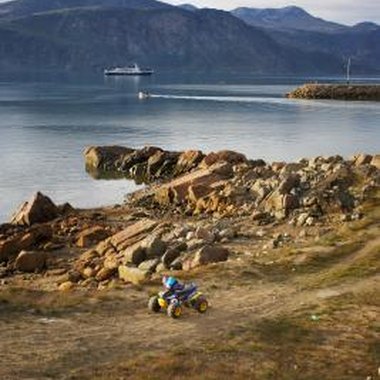 Exploring Sturgeon County, Alberta, on an all-terrain vehicle is a great way to see and enjoy remote wilderness and wildlife. ATV trails are popular throughout Alberta because they offer an exhilarating way to travel. Sturgeon County is home to several natural areas and provincial parks, but in order to preserve animal habitats, ATV are only allowed at the Redwater Sandhills Natural Area (albertaparks.ca).
Overview
The Redwater Sandhills Natural Area is located in the northeast corner of Sturgeon County, close to the town of Redwater, Alberta. The natural area boasts large sand dunes that are perfect for ATV riding and other forested trails for hiking. Because Alberta has restricted ATV use on most other trails, Redwater Sandhills Natural Area has become popular and is used frequently by ATV riders and snowmobile riders.
Redwater Sandhills Natural Area Sand Dunes
Large sand dunes are the most popular place for ATV riding in the Redwater Sandhills Natural Area. The park contains several types of sand dunes, each of which brings its own challenges to an ATV rider. All of the sand dunes at the park, transverse and barchan and parabolic, are formed by single-direction high winds. Transverse sand dunes stand perpendicular to the wind. Barchan and parabolic sand dunes form in a crescent or parabola above a larger crescent-shaped depression. The dunes are relatively stable and have been deemed safe for ATVs by the Parks Division, which oversees the natural area.
Environment
The natural area contains diverse environments and ecosystems. The area is part of the Boreal Forest Natural Region, which is protected in many of Canada's parks. The tops of the sand dunes are home to jack pine trees and lichens, and the depressions hold wetlands that contain black spruce trees, dwarf shrub ferns, spagham moss, muskeg and sedge shrub ferns. The open-water areas of the wetlands are home to cattails, and the wetland area is surrounded by birch trees.
Considerations
The Redwater Sandhills Natural Area is intended for recreation and environmental preservation. Some areas of the park are relatively fragile as they have been adversely affected by petroleum and natural gas drilling. It is important for ATV riders and all park visitors to remain in the areas designated for recreational use.
Photo Credits
Jupiterimages/Photos.com/Getty Images