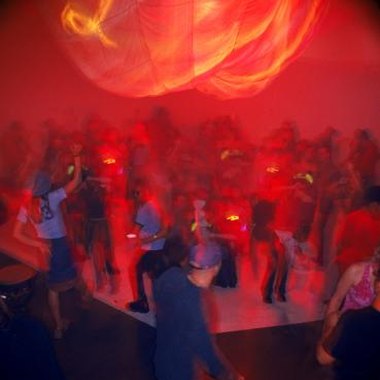 Having the right glow-in-the-dark paraphernalia can make the difference between a safe and entertaining party amongst darkness and a bunch of tripping and falling guests. You can make your space, attendees, food and activities dazzle by using glow novelty items in different fluorescent colors, LED lighting and glow paint. Stock up on everything from glow jewelry to glow place settings to pull your bash off without a hitch or a spill.
Glow Decorations
The first step to making a glow party a hit is to create the glow-in-the-dark mood. Set up the party room so that there is no light peeking through windows or doorways. You can cover light sources with sheets or large pieces of black card stock. Stick patterns of glow-in-the-dark stars on the ceiling or hang them with string to provide a lower source of glowing light. You can also create pathways using glow in the dark stars or stickers. Add strobe lights, black lights and LED lamps or candles in various corners of the room, on food tables and near game areas. Play upbeat dance music throughout the party or spooky Halloween music, depending on the occasion.
Glow Food/Beverage Service
Provide lighting near your food and beverage tables to prevent spills. Outline food tables in glow sticks. Place glow-in-the-dark drink stirrers and straws inside glow-in-the-dark cups and mugs for adult parties. Pour glow-in-the-dark ice cubes in a cooler with tongs. Arrange LED candles near bottles of soda or liquor. Top another cooler filled with glow ice cubes, with beer for adults or juice boxes and bottled water for kids. Put glow-in-the-dark serving platters, bowls and plates out. Serve finger foods such as pizza, chicken tenders, egg rolls, taquitos, fruit skewers and snacks, including chips, cheese and crackers and veggies with dip, so guests do not have to concentrate on using utensils in the dark.
Glow Accessories
Provide your guests with goodie bags of glow-in-the-dark items including rings, sunglasses, pins, hats and glow sticks when they arrive to the party. A beginning glow-in-the-dark activity for kids an adults can include a competition in which guests have to accessorize themselves, using glow sticks and the contents of the goodie bag in creative ways, such as making belts, ponytail holders, head bands, bracelets and anklets. You can distribute small tubes of glow paint or glow sparkles to the winners and allow them to add the paint and sparkles to themselves and other guests' cheeks or hands.
Glow Games
Make your glow-in-the-dark party entertaining by providing an array of games. Draw a hopscotch grid and a tic-tac-toe board on the floor for kids to play upon. Paint plastic bowling ball pins with glow-in-the-dark paint and gather glow stick necklaces to create a ring toss. Tape glow sticks around a hula hoop and hang it from the ceiling. Give guests glow-in-the-dark coasters to throw like a Frisbee through the hoop. Provide attendees with a tablet of paper, glow pens and chalk for a game of Pictionary. Arrange a putt-putt area where people can try to put glow golf balls into a glow cup that is lying horizontally. Offer glow jewelry and prizes to game winners.
Photo Credits
Brand X Pictures/Brand X Pictures/Getty Images