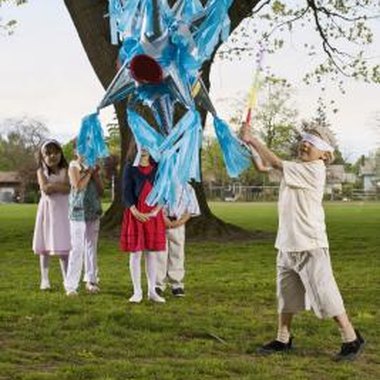 A birthday party should focus on providing fun activities for the birthday child and guests. No two 8-year-old children will want exactly the same party, but you can plan a successful party by paying attention to your child's interests and letting her help you to plan the party. Adapting a basic list to match the party's theme will help you plan a fun birthday party.
Decorations
Move beyond the basic streamers and balloons, although you can still use them as part of the birthday party. For example, if your child wants a video game party, decorate the walls with video game posters or silhouettes of your child's favorite video game character. If your child wants a movie star- or rock star-based party, create press passes, a red carpet made out of a red plastic tablecloth and movie posters decorating your walls. A rock party can have guitars and other musical instruments on the walls. A super hero party can be decorated as the secret lab for the super hero.
Refreshments
Refreshments for an 8-year-old's party should consist of easy-to-eat foods that the children can help themselves to throughout the party. In addition to the traditional birthday cake and ice cream, provide a variety of sweet and salty snacks to munch on. Decorate the cake or cupcakes to match the decorations on the walls. A movie birthday party should include popcorn. Provide snack bags for the children to put their snacks in so there is less of a mess at the end of the party. Ask the parents if their children have any food allergies and plan your menu accordingly.
Games
Games can make the party a success. Adapt traditional party games to match your party. For example, for a video game-themed party, make a backdrop of the video game and pin one of the characters onto it to take the place of the traditional pin the tail on the donkey game or you can pin the pick on the guitar for a rock party. Make a piñata that matches the theme or buy one. Or, create a trivia game that matches the theme of the party. A treasure hunt can be adapted for a spy party or as a mission for a super hero party.
Goody Bags
The goody bag supplies should appeal to the children. If you have a movie star party, the bags may include popcorn, passes to a movie theater or a free video rental. If you have a spa party, then nail polish, body glitter and lotion make a quality goody bag. Add basic pencils, stickers and other small toys that match the theme of the party to round out the goody bags.
Resources
Photo Credits
Todd Warnock/Lifesize/Getty Images