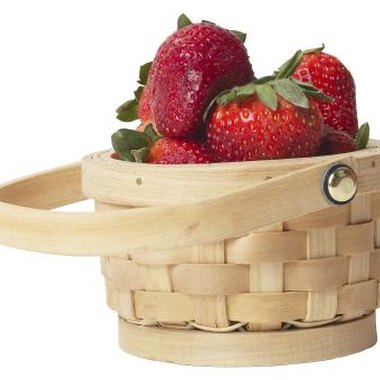 Located just a few minutes north of the Kentucky-Tennessee border, Adairville, Kentucky, has hosted a yearly Strawberry Festival since 1947. The small town, located in Logan County, coordinates a week-long festival of exhibitions, rides, contests, awards and other activities that appeal to singles and families, as well as participants of all ages. The spring festival attracts visitors who come from different areas to enjoy the fun-filled atmosphere.
Overview
The Adairville South Logan Chamber of Commerce organizes and facilitates the yearly Strawberry Festival. The Chamber of Commerce allocates the proceeds from the festival, which Adairville holds in May each year, to help Adairville's various organizations, such as the fire department and ambulance service and the community park.
Kick-Off
The Adairville Strawberry Festival kicks off with a 5K run. Visitors to the first day's Strawberry Festival festivities can enjoy the Car, Truck and Tractor Show and finish the day by attending the annual Strawberry Festival steak dinner and auction. During the dinner, the Chamber of Commerce honors local citizens for their service to the town and activism in promoting the area. Awards include a Pride Award to the Adairville resident who has made outstanding achievements in bringing pride to Adairville, a Business Award to local businesspeople who serve the South Logan area faithfully and a Humanitarian Award to an individual who works for the betterment of the local population. The dinner organizers name the festival's Grand Marshall at the dinner.
Festival Events
Other Strawberry Festival events include a quilt show and art exhibit, rides, kids' pet and adult pet shows, baby and Little Miss pageants and gospel singing. The annual parade features floats, clowns, local dignitaries and decorated cars, trucks and tractors. Artists and artisans exhibit their artwork and crafts at the festival. Each evening's Entertainment on the Square features musical guests in Adairville's main square.
Visiting Adairville
Visitors to Adairville can also explore the area surrounding the town. Historical sites include the home of George Hite outside of Adairville. Hite's first wife was an aunt of the famous outlaws Frank and Jesse James, who visited this home. Another old, historic home in the area is that of Dr. James Bowling, the 19th century community physician. Andrew Jackson fought a duel with Charles Dickinson outside Adairville, an event re-enacted each year at the Strawberry Festival. Visitors to Adairville may also like to explore Cook's Cave (also called Savage Cave), which some anthropologists believe shows evidence of prehistoric occupation.
Photo Credits
Hemera Technologies/PhotoObjects.net/Getty Images