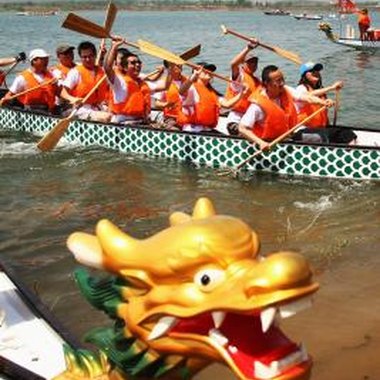 The Chinese Dragon Boat Festival is celebrated every year on the fifth day of the fifth lunar month of the Chinese calendar, which usually falls in the month of June. In Mandarin, the festival is referred to as "Duan-Wu," which literally translates into "beginning" and "horse," symbolizing the beginning of the month of the horse, according to the Chinese calendar. The Dragon Boat Festival's traditions can be traced back to the tragic death of the statesman and poet Chiu Yuan.
The Emperor's Adviser
The Dragon Boat Festival serves as a memorial to the statesman and poet Chiu Yuan (340-278 B.C.). Once a prestigious adviser to the king of Chu, Chiu Yuan became the target of jealous adversaries who convinced the king to ignore Chiu Yuan's advice. The king's successor eventually exiled Chiu Yuan. Upon hearing that the kingdom had been invaded, Chiu committed suicide by drowning in the Mi-Lo river. Local fishermen hurried to the site and attempted to scare away the fish by splashing with their paddles and beating the drums attached to their boats. The modern-day festival recreates the local fishermen's attempts to save the drowning man.
Rice Dumplings
While searching for Chiu's body, the fishermen threw rice into the river to distract the fish. It became a practice to throw rice wrapped in leaves into the river as a sacrifice to Chiu's spirit. In modern times, festival participants continue this tradition. Rice dumplings, or "tzung tzu," are eaten in honor of Chiu Yuan.
The Dragon Boat
Another legend recounts that a dragon lived within the river. In order to keep the dragon away from Chiu Yuan's body, the fishermen poured rice wine into the river, finally causing a drunken dragon to float to the river's surface. The fishermen then saw a sliver of Chiu Yuan's clothing hanging from the dragon's whiskers. The modern-day festival uses boats carved to look like dragons to protect the riders from malevolent spirits.
The Egg
A popular festival tradition -- especially among children -- involves balancing an egg. It is said that if you can balance an egg to stand on its end at noon, the hour of the horse, on the day of the Dragon Boat Festival, you will have a lucky year. Every three years, the Dragon Boat Festival falls near the summer solstice, when the unique juxtaposition of the sun and the earth allows the egg to balance more easily. Usually parents allow their children to attempt the trick.
Photo Credits
Feng Li/Getty Images News/Getty Images