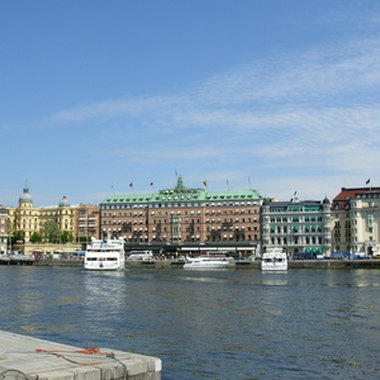 Stockholm, the capital of Sweden, is the second-most visited Nordic country after Copenhagan. The city is known for its many waterways, resulting in its nickname: Venice of the North. It is a rather large city, with many accommodations and lodging options in each of its districts and areas in order to accommodate the more than a million visitors the city receives a year.
Gamla Stan
Gamla Stan is the old town of Stockholm and is home to many hotels adhering to an old-style aesthetic. The Lady Hamilton Hotel, situated next to the Royal Palace of Stockholm, is adorned with a collection of traditional antiques and folk art throughout the hotel. One of the Lady Hamilton's sister hotels, the Victory Hotel, was named "the best hotel in Sweden" by the World Travel Awards and is, like its sister, adorned with a collection of antiques, this one of the nautical variety. The Rica Hotel in Gamla Stan is about a half-mile to the train station, and each of its 51 rooms are designed in 18th-century style.
Norrmalm
Norrmalm, the largest and busiest district in Stockholm, is also the most central part of the city. One of the more lavish hotels in this area is the Grand Hotel, which has several types of rooms and suites, two restaurants, a bar, spa and fitness center. Kids stay for free at the Scandic Sergel Plaza, which offers play areas with kid's films and video games. The Nordic Light Hotel, winner of the Sweden's Leading Boutique Hotel Award three years in a row, is home to one of the largest collections of American wine in Europe, as well as "mood rooms" – specially lighted rooms with personalized colors and intensities.
Södermalm
Södermalm is an island-like district in central Stockholm and is home to a prevailing bohemian, alternative culture. The 500-roomed Clarion Hotel is an exemplar of this culture, which hosts exhibitions from renowned artists and live performances from Nordic musicians. The Scandic Malmen Hotel is located close-by to many music venues, and its bar, the Lilla Hotellbaren has a live stage for musicians. As the Alexandra Hotel is on the waterfront, the staff often organizes tours of the surrounding area on a boat.
Bromma
The Bromma borough makes up much of the western portion of Stockholm. The Glyghotellet – or "Flight Hotel" – is especially notable for its green policies, including its use of hydro-power to power the entire hotel. The Mornington Hotel is distinguished for its health club, complete with indoor and outdoor exercise opportunities, a climbing wall, fitness lectures, a sauna, yoga sessions and massage therapists. Scandic Bromma is particularly accommodating to children, with a playroom attached to the lobby, equipped with films, games and books. The restaurant provides high chairs and kids menus on request.
Photo Credits
Stockholm Hafen image by marvellousworld from Fotolia.com