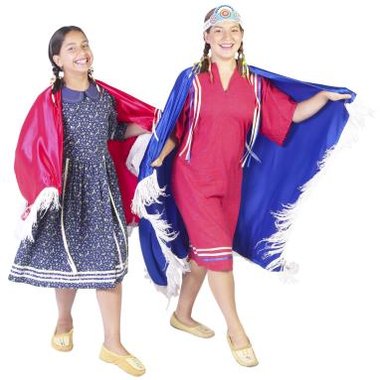 The stomp dance is the American name given to the traditional dances of Native American tribes. The dances were given the name of "Stomp Dance" because most of the steps use a stomping or shuffling motion, which looks similar to stomping. However, there is a little more to the dances than just basic stomping. These traditional Native American dances vary by tribe, but each tribe uses similar basic steps to complete the dances. Stomp dancing uses accents on every second beat, similar to a heartbeat. A stomp dance is enjoyable for kids who love to dance and move around. Teaching the dance to kids is not difficult, because of the simplicity of the steps.
Single Step
Step

1
Stand with your feet about shoulder width apart.
Step

2
Shuffle your left foot to the left on the second beat of the song by picking it up just above the ground and shuffling it over. Shuffle your right foot to the left in the same rhythm, only on the fourth beat rather than the second. Use this shuffle movement between other steps.
Step

3
Complete the shuffle movement with this final move. Bend your right leg slightly and pick up your left foot. Step forward or to the side with your full weight on the second beat and bring the right foot along on the fourth beat.
Step

4
Continue this basic movement in between other, more complicated, moves.
Stomp
Step

1
Rest all weight on one leg. Pick up the opposite leg on the first beat.
Step

2
Step down on the foot with your full weight on the second beat. Try to make a stomping sound with your feet.
Step

3
Repeat this movement with the other leg to complete several stomps in succession.
Indian
Step

1
Keep both feet about shoulder width apart.
Step

2
Step forward with your right foot on the second beat, leaning your body forward over your right foot. This is called a chug forward.
Step

3
Lean back onto your left foot on the fourth beat. This is a chug back.
Step

4
Chug forward one more time on the next second beat.
Step

5
Bring your left leg forward in front of your right on the fourth beat and step forward onto the left foot to complete a step.
Tips & Warnings
Mix and match these steps to create an authentic Native American stomp dance that children can use during a presentation about Native American culture.
Photo Credits
Hemera Technologies/PhotoObjects.net/Getty Images