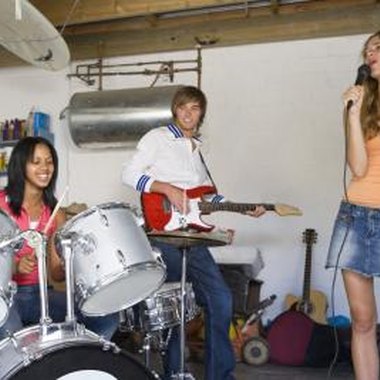 So you are young, pretty, popular and up to date with all the current trends -- sure you're not in a teen band already? Regardless, if you're any of those things, anyone can get a teen band together. With a bit of perseverance and organization and an inclination toward music, you may very well be the next Justin Bieber.
Step

1
Put up flyers advertising your desire to start a band. Be descriptive in exactly what you are looking for, such as a drummer or bass player, and what qualities the ideal candidate should have, such as classically trained or a huge fan of punk.
Step

2
Set up a location to write and rehearse your songs, such as your parent's garage or a friend's basement.
Step

3
Collaborate on a song that targets your demographic, which is people your age. The best advice is to just write about what you know.
Step

4
Set up a recording studio. You will need, at bare minimum, a computer with an editing program (such as Adobe Audition) and a microphone. As you expand and improve, begin filling your studio with more professional equipment such as multi-track recorders, mixers, condenser microphones, samplers, pre-amps and a sound-proof booth.
Step

5
Record a demo. Put your best song first and make sure the songs you choose represent the image you want for your band.
Step

6
Hire a graphic designer to create a logo for your band. You can find graphic designers online, or may even know someone willing to do it for free.
Step

7
Book gigs at local teen hangouts and play at parties. Pass your demo out for free to spread the word of your new teen band.
Photo Credits
Polka Dot Images/Polka Dot/Getty Images