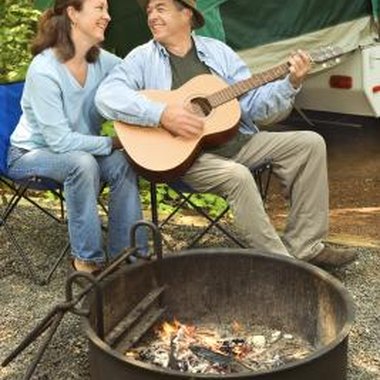 Starcraft pop-up campers, or folding campers, come in four different models. The Starcraft model is the lower end of the Starcraft line. The Centennial model is designed for larger families; king beds are standard and there is more interior room. The Starcraft RT models includes a steel bed located at the towing hitch suitable for hauling toys such as ATVs, jet skis, motorbikes or golf carts. New for 2012 is the Starflyer series. The Starflyer series is based on light weight and affordability. Each of these series can be modified by Starcraft or by purchasing your own add-ons.
Starcraft's Interior Modifications
Starcraft offers customers a choice of interior options when they purchase a new pop-up camper. Depending on the series of your folding camper, you can add on items such as upgrading to an interior shower/bath combination, adding a 3-way refrigerator, bed lights, heated bed mats, fans or a second pedestal table.
Starcraft's Exterior Modifications
Depending on the series of your camper, you can add an awning or screened room, upgrade the external stereo equipment, add electric brakes, hydraulic surge brakes, polished rims, an outdoor grill or front storage box. When choosing Starcraft's modifications, you can be sure that the upgrades will fit your rig perfectly. Most manufacturer modifications are covered under the initial pop up camper's warranty.
Your Own Interior Modifications
If you already own a Starcraft pop-up camper, you can add your own modifications. These might include air conditioning, replacing the linoleum with carpeting and reupholstering the cushions not used for sleeping with leather or other upscale fabric. Sleep Number beds are available from larger RV retailers; with these you can adjust the firmness of the mattress for maximum comfort. Portable induction cooktops are a popular add-on. These burners cut the cooking time in half, so you have more time to play. Starcraft does not offer these options as part of a new purchase or as an aftermarket add-on. They are available from third-party vendors.
Your Own Exterior Modifications
You can make many exterior modifications to your Starcraft pop-up camper. Awning add-ons include high-end remote-control awnings, and screen rooms allow you to have a bug-free outdoor experience. Awnings and screen rooms can be purchased through a Starcraft retailer or you can expand your options by shopping at RV retailers. Grills are another popular add-on. You can purchase a grill from Starcraft or from any retailer that sells portable grills. Exterior lighting adds ambiance and safety -- add lights to the awning and around the body of the camper. Lighting systems are available through local and online camping retailers. When the temperatures rise to the 90s, adding a misting system will make a big difference in comfort. Misting systems are available that attach to the Starcraft pop up camper's awning. The spray cools you down and lowers the temperature in the area being misted. Camping suppliers and RV retailers have misting systems available for use on campers.
Resources
Photo Credits
Thinkstock/Comstock/Getty Images