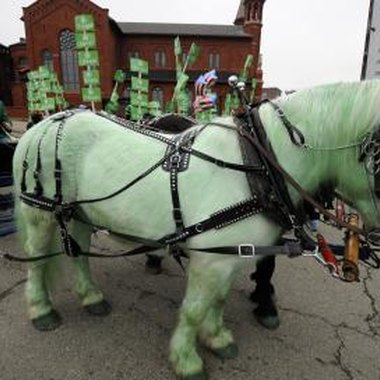 St. Patrick's Day is a big deal in Pittsburgh, where more than 10 percent of the population is Irish, according to PopularPittsburgh.com. The mid-March festival is widely celebrated with music, dancing, drinking and a huge parade. The annual St. Patrick's Day Parade downtown is not only the city's biggest of the year but one of the largest St. Patrick's Day parades in the country.
History
There had been a St. Patrick's Day Parade in Pittsburgh each year since at least 1869 until 1903, when it was canceled due to a fierce storm. The holiday was celebrated with other observances until St. Patrick's Day 1950 when the tradition began anew. Except for 1956 when a huge snowstorm forced its cancellation, the parade has been held each year and has constantly grown in size and spectacle.
Awards
One of the most anticipated parts of the parade each year is seeing and hearing the prize competitions. On St. Patrick's Day, downtown Pittsburgh transforms into a daze of elaborately decorated, personalized floats with Irish themes sponsored by local companies and organizations drifting through the streets accompanied by high school, college, military and independent marching bands, all competing against each other for various awards.
Route
The 2011 parade followed a standard route. The parade generally begins at 10 a.m. at the Greyhound station on the corner of Liberty Avenue and 11th Street. From there it goes down Grant Street in the center of downtown until it intersects Boulevard of the Allies, where it turns right. It continues down the Boulevard until it hits the Reviewing Stand at Stanwix Street, then disperses at Commonwealth Place, near the former State Office Building. Nearly all streets downtown close to traffic to make way for the mass of spectators. In addition to the parade, there is always food, music and drinking in Market Square.
Miss Smiling Irish Eyes
One of the most distinctive features of the parade is the annual Miss Smiling Irish Eyes honor. The Miss Smiling Irish Eyes title is given to a local "single woman between the ages of 17 and 22, of Irish birth or descent, of good moral character, and an active promoter of her Irish ancestry," according to WTAE.com and parade organizers. Runners-up become her court. To apply, an eligible woman fills out an online application and sends in a resume and a photo. If she wins, she gets to ride a float in a position of prominence and eat brunch with Pittsburgh VIPs, including the mayor.
Photo Credits
Jeff Swensen/Getty Images News/Getty Images