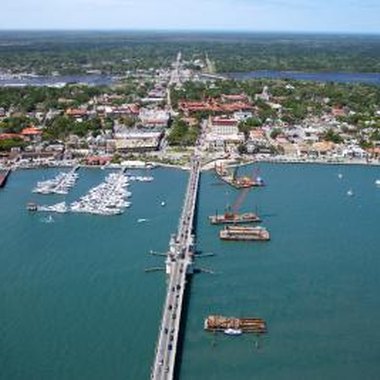 Not only is St. Augustine, Florida, one of the oldest cities in the United States, it is also surrounded by the Atlantic Ocean, rivers, creeks and shallow bays, making it perfect for a variety of types of fishing. For anglers who enjoy inshore fishing, there are four piers near the city that can be accessed for free or for a small fee. Popular catches from the piers include tarpon, bass and king mackerel fish. Many of the piers are located in Florida state parks.
St. Johns County Ocean Pier
St. Johns County Ocean Pier (co.st-johns.fl.us) is a beach-front pier park located on St. Augustine Beach. The four-acre pier includes a nearby playground, picnic tables, restrooms and outdoor showers, as well as a bait and tackle shop. The county offers daily or seasonal passes for anglers who wish to fish on the pier. This is the closest pier to the downtown area of St. Augustine.
Vilano Beach Fishing Pier
Located on the intercoastal waterway just north of St. Augustine, sits the Vilano Beach Fishing Pier (scenica1a.org) -- the only pier in the area open 24-hours per day, as of June 2011. A picnic shelter, beach access, restrooms and outdoors showers are located nearby the pier. You can also charter a boat from the pier to go deep sea fishing for larger catches.
Flagler Beach Pier
Flagler Beach Pier (cityofflaglerbeach.com) is an 800-foot fishing pier that was constructed in 1927, but reconstructed several times after damage from several storms. Located on the Atlantic Ocean off of Flagler Beach, the pier sits approximately 35 miles south of the city of St. Augustine. The pier is open everyday from 6 a.m. until midnight. The city offers daily, monthly or yearly rates for fishing on the pier.
Governor's Creek Boat Ramp
Located approximately 26 miles Northwest of St. Augustine is Governor's Creek Boat Ramp (greencovesprings.gov), also called Shands Pier in Green Cove Springs. The pier offers a boat launch, a nearby picnic facility and restrooms. It is located along St. Johns River offering anglers a bit of a change from the other salt water fishing piers.
Photo Credits
Jupiterimages/Photos.com/Getty Images