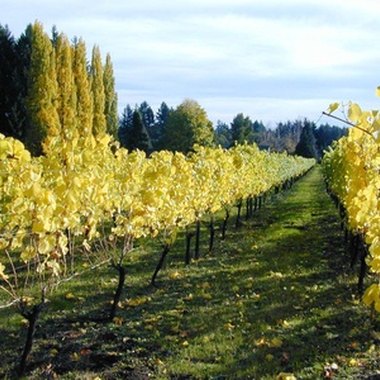 Springfield, Oregon -- a suburb of Eugene, the state's capital -- lies on the eastern side of Interstate 5, the region's primary north-south artery and the dividing line between the two cities. Visitors to Springfield or the Eugene-Springfield metropolitan area can find reasonably priced accommodations in a handful of Springfield motels, all of which are located close to the interstate.
Best Western Grand Manor Inn
One of this motel's big selling points is its oversized guest rooms that provide a little extra elbow room for guests. The three-story, 65-unit motel sits just off Exit 195 of Interstate 5, offering a convenient base for exploring Springfield, Eugene and the rest of the Willamette Valley. Nearby attractions include Springfield's Washburne Historic District and Southern Pacific Railroad Depot and the campus of the University of Oregon in Eugene. Hotel facilities and services include a seasonal outdoor swimming pool, exercise room, 24-hour front desk with free business services and complimentary continental breakfast. Nearby restaurants include Denny's, Hop Valley Brewing Company, IHOP, McDonald's and Outback Steakhouse.
Crossland Economy Studios Eugene-Springfield
Family groups and travelers planning an extended stay in the Springfield area might want to consider this three-story all-suites motel. Close to Exits 194 and 195 of I-5, Crossland offers 127 studio units, each of which features separate sitting and sleeping areas, as well as a kitchenette with refrigerator, two-burner cooktop and microwave oven. High-speed Internet is available for an added charge of $4.99 per stay (as of November 2010). Each of the studios also contains a spacious desk/work area that would come in particularly handy for travelers who are visiting the area on business. Nearby restaurants include Applebee's, Ciao Pizza, El Charro Mexican Restaurant, Home Town Buffet and Original Roadhouse Grill.
Quality Inn and Suites
This three-story, 100-unit motel is just off Exit 195 of Interstate 5 and a short drive from the Gateway Mall, one of the largest enclosed shopping centers in the Willamette Valley. The Quality Inn welcomes travelers with pets for an additional charge of $5 per pet per night. Other hotel facilities and services include a seasonal outdoor swimming pool, high-speed Internet and complimentary continental breakfast. Eateries within walking distance of the motel include Cafe Yumm!, Elmer's Restaurant, Hop Valley Brewing Company, IHOP and Shari's Restaurant.
Super 8 Springfield
A short drive from downtown Eugene and the University of Oregon campus, this 71-unit motel also provides a gateway to the scenic McKenzie River Valley that stretches from the Springfield Area to the city of Sisters roughly 100 miles to the east-northeast. Super 8 provides its guests with a complimentary continental breakfast each morning, as well as microwave ovens, compact refrigerators and wireless Internet in all of its rooms. Restaurants adjacent to Super 8 include Applebee's, Denny's, Gateway China Buffet, Outback Steakhouse and Sbarro.