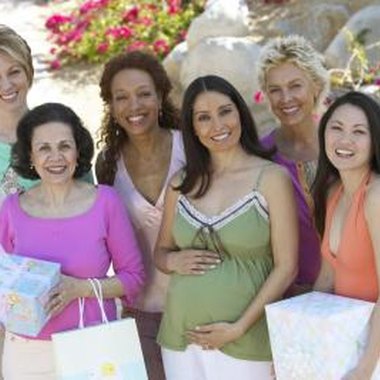 Spring is a season full of symbolism that perfectly mirrors the miracle of birth. When you incorporate spring flowers into a baby shower, you automatically provide a cheerful environment and color palette for the party. Whether you focus on specific spring flowers as a theme or spring and summer baby gifts, you give guests the opportunity to be part of the celebration through color and gift choices.
Bulb Theme
Some of the most beautiful spring flowers start out as bulbs, and although a new mom-to-be may not have time to plant the bulbs in fall, providing the bulbs for a showy spring garden can be just the start of the memorable shower theme. Set the theme for the bulb-shower with the invitation to include a headline like, "Great things are coming..." then invite guests to bring a few spring flower bulbs along with the usual baby shower gift for a group gift basket. Include information about a "best spring-wrapped gift" prize to get friends and family in on the theme and help decorate the gift table with their colorful flowery presents. Decorate the party room with spring flowers and balloons. Finally, present the guest of honor with the basket full of labeled, spring flower bulbs along with a promise to get together in fall to plant a garden that will commemorate the birth of the bundle of joy.
Tulip Theme
Cheerful and elegant, the tulip is thought to symbolize "perfect love" like that between a mother and child. Focus on the graceful tulip for your baby shower theme to exemplify the lightness of spring and the joy of new life. Use tulip images on your baby shower invitation, including a classic Anne Geddes image of an infant in a tulip to get the party started. Decorate the party space with fresh tulips and provide potted tulips for tulip-meaning trivia winners. The centerpiece to your party will be the tulip-themed cake that will leaves mouths watering and cameras clicking away to commemorate the event.
Daffodil Theme
Daffodils are arguably the most sunshiny-spring flower around. Often the very first sign of spring, the flower itself is a symbol of rebirth and good fortune. When you use the daffodil as your main theme for your spring flower baby shower, you open the door for bright, colorful party decorations. Daffodils on the baby shower invitation will set the theme and provide party planners the opportunity to include guests in on the fun. Ask guests to bring daffodil motif gifts, wrapping or gifts such as children's books that incorporate the theme. "Daffodil" by Emily Jenkins or "That's not a Daffodil" by Elizabeth Honey are two children's books that can help start a library for bedtime stories to come. Use daffodil plants, bulbs or daffodil motif stationery or notepads as party favors to delight family and friends.
Fun in the Sun
"Fun in the Garden Sun..." can be the theme for this spring flower baby shower, which provides the opportunity for colorful party decorations and useful gifts. An outdoor setting is the perfect backdrop for a spring garden shower and tables can be topped off with potted spring flowers and vases full of blooms. Guests will present gifts along with flower bulbs and seeds, as well as advice on how to spend time outdoors with an infant. When you focus on gifts that make it easy for a mom to take the new babe out for walks or to the park while protecting him from sun, heat and bugs, you provide necessary items she may not have thought about. Gifts such as sunscreens, UV-resistant infant garments and diaper bags with a cooler compartment will make the first summer with baby a delight.
Photo Credits
Barry Austin/Photodisc/Getty Images