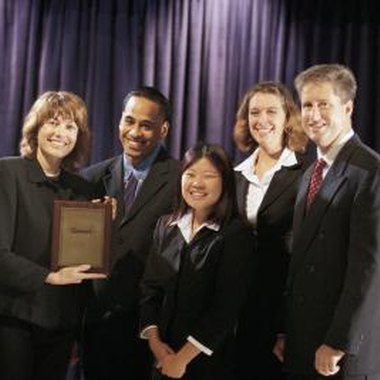 Sports banquets are special events held to congratulate and reward successful athletes and encourage them to push on to further achievements. The invitations should both provide the key details and reflect the general purpose of the event. Many invitations to sports banquets provide a brief outline of the agenda and a mention of any unique presentation or recognition being made at that particular event.
Basic Information
Of course, the name of the event, date, time and location should be listed on the invitation, and this information usually comes first before any other details. If the venue is unusual or at a difficult-to-find facility, you can include a small map, either printed on the back or as a separate insert. A breakdown including the time at which dinner will be served and the starting time of the awards portion of the evening is helpful for those who may have previous engagements and will need to arrive late for the proceedings.
Attire
Wording should be used to define the attire for the occasion. Words such as "Formal," "Casual," "Casual Dress" or "Semi-formal Attire" should appear somewhere in the invitation to clarify how attendees should dress. Some invitations may clearly state "Jackets Required." Although this instruction is only for males, it does subtly provide direction to females that this is a dressy occasion, and that they should wear a dress or pantsuit.
Agenda
The invitation should include a brief but concise agenda for the evening, including names of key speakers and guests of honor. This will give athletes and their family and friends an idea of when various individuals will be honored. It will also give recipients a general idea of the length of the event, especially if older guests and children will be attending.
Honorees
Space allowing, the invitation can include a list of banquet honorees. If the back is not used for directions, this is a perfect place for listing guests of honor and the awards they are receiving. This will make the invitation a treasured keepsake for friends and family. A separate program distributed at the banquet can provide more detailed information on the institution or organization, the athletes and the sports programs.
Photo Credits
Comstock/Comstock/Getty Images