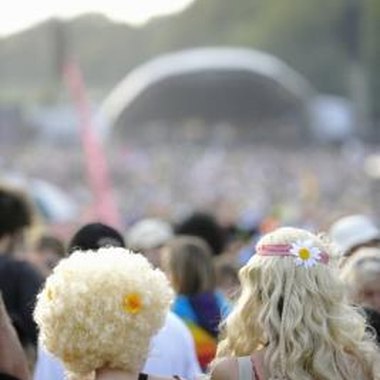 Being sponsored at a festival can provide an attractive agreement for both you and the company backing you. You receive financial support and credibility by connecting with a brand, and the company appears involved in the community and is advertised throughout the festival. Approaching a prospective sponsor takes care and preparation. You must have a clear, well reasoned sales pitch, and you must detail the ways in which the company will benefit. This helps ensure you have friendly and successful meetings with prospective sponsors.
Items you will need
Internet access

Telephone

Resume

Promotional Photos

Festival fliers
Step

1
Prepare your sales pitch and promotion materials. Update your resume and make sure to highlight areas that are relevant to your involvement with the festival. Make sure your promotional photos are up to date and that your photos show your act is interesting and exciting. Perfect your sales pitch. Summarize your act in just a few sentences. Highlight what you are known for, any awards or critical recognition you have received and your future plans. Practice your sales pitch on friends to gauge a reaction and become more comfortable.
Step

2
List specific types of support you will accept. This can include travel costs, musical instruments, audio and video equipment, performance clothes and money. Also consider asking for a temporary loan of equipment instead of a gift.
Step

3
List specific benefits the company would receive through sponsorship. This could include a banner with the company's name above the stage, performing while using their products (T-shirts, jewelry, hair gel, musical instruments, audio and video equipment) or mentioning their name during your act. Ask the festival organizers about their policy on advertisements if you are unsure.
Step

4
Identify companies that would be receptive to becoming your sponsor. Look for those that have a history of philanthropy in the arts or a connection to your community. Look into companies with which you have a connection, including companies that you or a family member has worked for or ones that have expressed interest in your act before.
Step

5
Call or email these companies. Be brief and direct. Identify your act using your sales pitch, and list the specific benefits the company would receive by sponsoring you. Offer to send companies your promotional materials if they are interested. Be sure to leave your contact information.
Step

6
Follow up on the calls and emails if you have not heard back from the companies within a week. Reiterate your interest in their support, identify the advertising opportunities and include your sales pitch.
Tips & Warnings
Always communicate in a polite and professional manner.
Photo Credits
Michael Blann/Photodisc/Getty Images