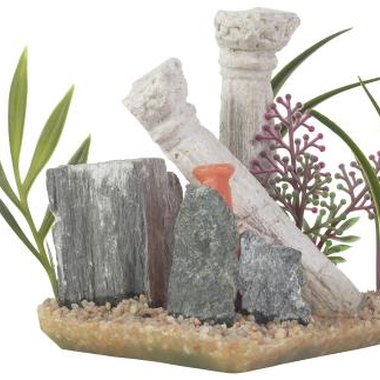 The famous cartoon sponge who resides in Bikini Bottom makes for an entertaining party theme. Spongebob Squarepants and his ocean friends, Patrick the Starfish and Gary his pet snail can be featured throughout the decor of your party. Use ocean-related items to create festive decorations that your guests will adore.
Tableware
Deck your party tables out with Spongebob Squarepants-themed tableware for your guests to use. Select paper dinner plates, bowls, napkins, cups, serving trays and tablecloths that display the lovable yellow, square-shaped sponge. Pair these decorative, yet useful items with cutlery pieces like plastic, forks, knives and spoons in a yellow color. Top the tablecloths off by sprinkling sparkling confetti in the shape of your favorite cartoon characters from the Spongebob Squarepants television show. Place a pineapple-shaped cup at each guest's seat at the table. These fruity drinking cups can also be given out as party favors.
Centerpieces
Place centerpieces on the tabletops at your party that relate to Spongebob. Use fish bowls filled with real fish, sand pails filled with sand and seashells or a real pineapple to decorate the center of each table. Another option is to fill a treasure chest with beaded necklaces for each of your guests to wear during the party and take home. You can even use a Spongebob figurine or stuffed animal that you may already have at home.
Decorative Games
Use Spongebob Squarepants games as a way to decorate your party venue and also provide entertainment to your guests. Hang a Spongebob or fish candy-filled pinata from the ceiling for your guests to smash open and indulge in. Attach a large poster of Spongebob to the wall and play a game of "pin the pants on Spongebob." You can also scatter bright-colored starfish all around various locations of your party. Have your guests go on a hunt to see who can find the most starfish.
Floor to Ceiling
Cover as much space as possible within the walls of your party with Spongebob Squarepants decorations. Give your guests the feeling of actually being a character on the television show. Place blowup palm trees on the floor. Fill baby swimming pools with sand, seashells and beach toys. Decorate the walls with fishnets, fish and crabs. Hang yellow sponges from the ceiling or entryway. Rent a bubble machine to give the feel of being underwater among water bubbles.
Photo Credits
Hemera Technologies/PhotoObjects.net/Getty Images