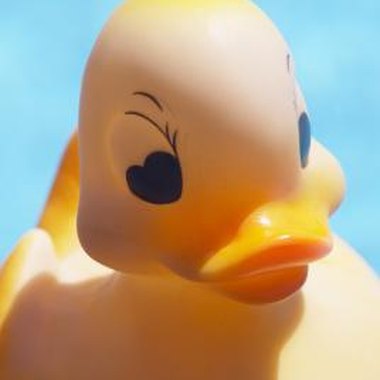 Now that the mommy-to-be is ready to show off her bump, host a splish splash baby shower in her honor. A splish splash party is a festive, gender-neutral theme for a shower that incorporates baby bath paraphernalia like rubber duckies, bubbles and other bath time must-haves. Use your invitations as a means of letting your invitees know about the splish splash shower theme, so that they can come prepared with appropriate baby gifts.
Establishing the Theme
The top of your baby shower invitation is where you should establish the theme of the shower. This should be done in a cute, but straightforward, manner. For a splish splash shower, you might word the announcement "Come get wet with us as we celebrate a splish splash shower for Lisa..." or "Bring your umbrellas, because it's about to get wet in this splish splash baby shower."
Poem
Write your invitation as a poem to get the splish splash theme across. You could say, "Splish splash, splish splash, Lisa Mills is preparing a baby bath! With rubber duckies and bubbles galore, let's shower her until we can't anymore" or "Towels and washcloths and bath toys, oh joy -- let's get Lisa showered for her new little boy!"
Event Details
The event details, such as date, time and location of the shower, must be included in the invitation. You can word these in such a way so they stay consistent with the splish splash theme. For instance, you might write, "Bath time is at 2:30 p.m. on Saturday, October 8th..." or "Come splash around with us on Saturday, October 8th, at 2:30 p.m.." You must also include information on who to contact to RSVP to the shower. This, too, can be worded relative to the splish splash theme. For instance, one way is to say, "Please contact Judy Reynolds, Bath Time Hostess, by..." or "Let Judy know if you can make it by... so she can have a towel ready for you!"
Gifts
It can be helpful to include a gift theme in the baby shower invitations, so that guests know what types of presents to buy for the mommy-to-be. Gift information goes at the bottom of the invitation. For a splish splash shower, you could word it like "Help get Lisa ready for bath time with baby bath gifts from..."
Photo Credits
Hemera Technologies/AbleStock.com/Getty Images