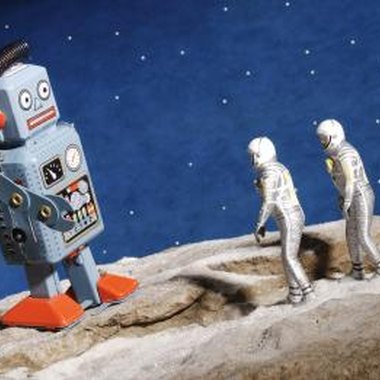 The mission: provide kid-friendly, space-age food that tastes out of this world. You'll impress all your earthly guests when you whip up delicious treats with a space-alien theme. Mix some creativity with green frosting and avocado slime, and your party will blast off with a menu that reaches the stars.
Birthday Cake
As if blowing out birthday candles isn't exciting enough, you can thrill the children with a space alien-themed cake. With gray icing, "lights" made out of yellow and red candy-covered chocolates, and green aliens crafted from icing, a UFO cake will make a celebration-worthy landing on any birthday table. Alternatively, break out the green food coloring and bake a lovable alien cake. Cupcake lovers can make mini-aliens with green icing, candy eyes and licorice antennas.
Planet Kabobs
Get the guests excited to eat fruit with colorful planet kabobs. Use various sizes of melon ballers or spoons to scoop out balls of watermelon, cantaloupe, honeydew and other fruits like apples or peaches. Carefully slide the orbs of fruit onto a wooden skewer to create a stick of fruity planets. Serve the planet kabobs on their own or with bowls of "black hole dip" made from creamy dark chocolate or "milky way dip" made of vanilla yogurt or marshmallow fluff.
UFO Sandwiches
Hosts looking for a space-themed lunch for their guests can serve UFO sandwiches. Layer deli meat and cheese in pita bread for a round sandwich that could easily be confused for a UFO. In the summer, turn on the grill and cook up juicy UFO burgers. Top them with "alien slime" aka guacamole. Or cut simple sandwiches, like deli meat on bread or grilled cheese, with a space-alien cookie cutter.
Beverages
Even beverages can stick to the outer-space theme. Thirsty kids slurp down black hole punch, a delicious mix of lemon-lime soda and grape juice recommended on the Boys Birthday Party Planner website. Putrid alien punch may look disgusting but kids love the fruity, fizzy drink, according to Disney's Family Fun website. Mix lemon-lime punch, sugar, water, canned orange juice concentrate and ginger ale into a drink fit for an alien. Finish it off with space worms of the gummy variety and some alien-colored lime sherbert.
Photo Credits
Hemera Technologies/AbleStock.com/Getty Images