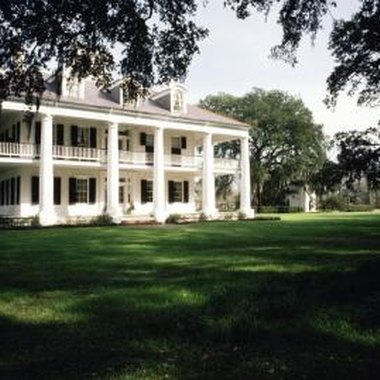 Visions of Scarlet O'Hara in Gone with the Wind typically come to mind when people think of Southern plantations. This image of antebellum plantations in the old South is arguably one of the most well-known. Plantations were large estates, typically employing slave labor, on which owners grew cash crops, such as cotton, sugar, rice or tobacco. These estates usually had a large mansion-like plantation house built with Georgian-style, French Colonial or Greek Revival architecture. Many plantations throughout the South are open for public viewing.
Monticello
Possibly one of the most popular southern plantations, Monticello was the home of the third United States president, Thomas Jefferson. The plantation, which is a U.S. National Historic Landmark, is located in Charlottesville, Virginia. Jefferson designed it himself in a neoclassical architecture style, building the estate in 1772. In 1987, the United Nations designated the 5,000-acre plantation as a World Heritage Site. It is currently the only private home in the United States so named.
Magnolia Plantation
The Magnolia Plantation and Gardens is one of the nation's oldest plantations. Originally built in 1676 to grow rice, the 70-acre plantation is located near Charleston, South Carolina. Surviving several centuries worth of wars and nature, the plantation and gardens opened to the public in 1870. Magnolia Plantation is famous for its gardens full of thousands of flowers and plants. The plantation is also listed on the U.S. National Register of Historic Places.
Liberty Hall
Liberty Hall is the former estate of Georgia politician and vice president of the Confederate States of America, Alexander Stephens. Stephens purchased the plantation, located in Crawfordville, Georgia, in 1845. Liberty Hall is a National Historic Landmark, and the Georgia Department of Natural Resources currently maintains the estate known as the Alexander Stephens State Park. The plantation house also contains a museum to the life of Stephens and his contributions as a state governor, U.S. representative and senator.
Destrehan Plantation
Destrehan Plantation, constructed in 1790 in Destrehan, Louisiana, was a sugar plantation. The National Register of Historic Places lists it as one of the oldest homes remaining from the Louisiana Purchase. The plantation is currently owned by the River Road Historical Society, a not-for-profit organization, and visitors can see historical demonstrations of plantation life conducted each day. The plantation is located just a few miles outside of New Orleans.
Photo Credits
Jupiterimages/liquidlibrary/Getty Images