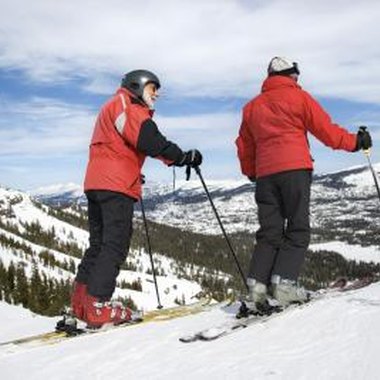 With casinos, comedy clubs and top entertainment, Lake Tahoe's southern shore produces a lively atmosphere for many visitors who enjoy the nightlife. But it also offers travelers some of the best recreational activities on a year-round basis. Resorts on the south shore offer travelers of varying tastes luxurious accommodations with amenities that meet their lifestyles and vacation needs.
Casino Resorts
Four of the largest casino resorts are near Stateline, Nevada. MontBleu Resort Casino & Spa, Horizon Casino Resort, Harveys Resort & Casino, and Harrah's Lake Tahoe Resort and Casino offer stay-and-play packages that feature gambling, fine cuisine, spa treatments, room discounts, live entertainment and concerts. A casino resort is ideal for those interested in a happening nightlife and relaxation at the pool or spa during the day. These resorts offer accommodations ranging from premium guest rooms to executive luxury suites.
Great Outdoors
For those interested in the great outdoors and recreational activities along the lake, the south shore features luxurious resorts among the mountainside woodland areas. The 3 Peaks Resort & Beach Club, the Best Western Timer Cove Lodge Marina Resort, the Lake Tahoe Vacation Resort and the Aston Lakeland Village Beach & Mountain Resort offer opportunities to indulge in water sports, championship golf, mountain biking and hiking trails, horseback riding and fishing.
Romantic Getaways
Couples seeking to rekindle a romantic spark will find the Lake Tahoe setting to be the perfect place. Venues such as the Tahoe Seasons Resort offer an ambiance that combines recreational attractions in a dreamy, intimate environment. Honeymooners might enjoy the one-bedroom master suites with first-class amenities. In addition, the resort is near Emerald Bay, paddlewheel cruises, Stateline casinos and the Heavenly Ski Resort.
Ski Resorts
The primary attractions for Lake Tahoe guests in winter are the ski resorts. The south shore provides a few accommodations that offer both luxury and adventure on the slopes. The Forest Suites Resort, the Grand Sierra Resort and the Embassy Suites Lake Tahoe Hotel & Ski Resort feature plush accommodations with access to the Heavenly Ski Resort. The resorts offer accommodations for families, couples or groups interested in skiing, snowshoeing, sledding or snowboarding. They also are within walking distance of Heavenly Village, which offers local cuisine at one of the many restaurants on the main avenue. Annual events here include national championship snowboard races.
Photo Credits
Thinkstock Images/Comstock/Getty Images