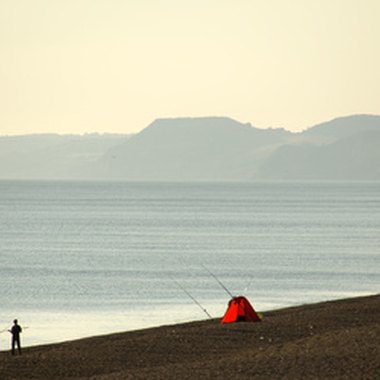 England's south coast has long drawn mature vacationers and conventioneers, attracted to the seaside views, the grand hotels and the Victorian piers. Nowadays, a heartier breed of active holiday-makers are rediscovering the south coast's best qualities. Its miles of Channel-facing shingle beaches are perfect settings for windsurfing and paddleboarding, open-air concerts, sailing and seafood restaurants with views. Boutique hotels, seaside palaces, family resorts and reliable budget brands typify the south coast's hotel styles.
The Grand Hotel Eastbourne
In its heyday, The Grand in Eastbourne was a Victorian palace hotel by the sea. The gleaming white, sprawling building with vast public rooms played host to the great and good -- from Winston Churchill to Charlie Chaplin. Debussy composed his symphonic poem "La Mer" while enjoying the sea views at the Grand. Still billed as a luxury, five-star hotel, the Grand has updated its traditional rooms. Some guests may find the decor a bit dated looking and the in-room technology a bit basic; only the best rooms have DVD players, for example.
The George in Rye
The ancient town of Rye, not far from Hastings, was one of the original maritime Cinque Ports, having been granted this trading status in 1189. The harbor is still home to a busy fishing fleet and pleasure boats, though the sea has receded from the town's cobbled streets and is now two miles away. The George is Rye's oldest coaching inn, with origins going back to 1575. Restored by new owners and reopened as a luxury boutique in 2006, the George has retained many original features including beams from an Elizabethan galley and a very early fireplace in the hotel bar.
Holiday Inn Express Portsmouth
This Holiday Inn Express is in the midst of Portsmouth's exciting post-millennial development, Gunwharf Quays. Typical of hotels of this group, rooms at the Portsmouth hotel are basic but modern and immaculate. The key advantage of this hotel is its location. Close to the shops, restaurants and the seafront along Gunwharf Quays, it's a few minutes from the Spinnaker Tower, Portsmouth Historic Dockyard (birthplace of the Royal Navy and home of Nelson's HMS Victory) and the HMS Mary Rose Museum.
The Haven in Sandbanks, Poole
Sandbanks, a peninsula that reaches out across the mouth of Poole Harbor, is an exclusive residential area. Its streets are lined with impressive mansions and its shores with golden sand beaches. The Haven sits at the very tip of Sandbanks with sea and harbor views on three sides. Italian radio pioneer Marconi lived at the Haven when he conducted his wireless radio experiments in the 1890s. Despite its history, the hotel has modern rooms with smart contemporary furnishings and up-to-date services. Family rooms, some with bunk beds, are available.
Photo Credits
england dorset coast chesil beach image by david hughes from Fotolia.com