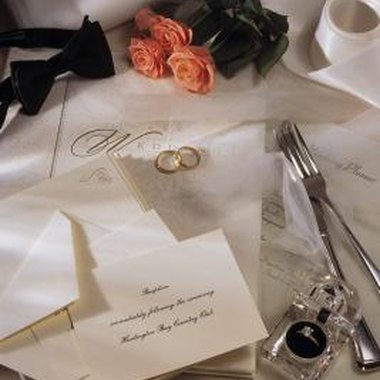 A wedding is a busy event that takes a lot of planning for you and your guests. RSVP cards are an important part of the preparations so you know the number of guests you will have. Timing is everything, though. Give your guests plenty of time to respond to your invites by sending them out as early as possible.
Out of Town Guests
It's only sensible to send invitations to out of town guests first to ensure they reach their destinations on time. This is especially true for prospective guests living in another country. Send the cards at least four months before the RSVP date to compensate for slow delivery. Set the invitations with a later due date as well if you fear they won't arrive back in time. The early notice also gives recipients the chance to make travel plans if they decide to attend.
Local Guests
Wedding guests who live nearby don't need the extensive forewarning that guests from out of town require, but you should still give them plenty of notice. Six weeks is a suitable amount of time for most guests to clear their calendars when they live close to you. Deliver the invitations by hand or entrust them to the mail service if you are too busy to deliver each one. Be firm with the RSVP date on these invitations because they will arrive in a prompt manner with plenty of time before the wedding.
Special Considerations
Now and then, a bride and groom will have relatives with sporadic schedules. For example, your aunt and uncle may have careers that leave them a day's notice before a new assignment whisks them away. Make special considerations for family members with erratic schedules. Set up a "just in case" table for relatives you expect, but lack certainty on their arrival. The "just in case" table also works well for overflow guests you weren't expecting from the start.
Virtual Invitations
Sending a virtual wedding invitation drastically reduces the delivery time for your invitations, so you can send them closer to the actual wedding date. Send virtual invitation two or three months in advance to guests from out of town and one month in advance for guests who live closer. Clearly state on the invitation whether you would like a virtual response, a phone call or a return letter. Virtual invitations also save money on postage, which is a plus when handling the expense of a wedding.
Photo Credits
Comstock/Comstock/Getty Images