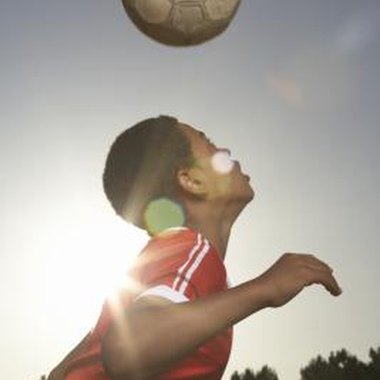 Ontario is a city in southern California, about 35 miles east of Los Angeles. Approximately 173,000 people reside in Ontario. With temperatures generally between 60 and 80 degrees Fahrenheit, outdoor activities and sports provide plenty of recreation options for residents. The city is home to multiple soccer fields, which host a variety of youth league, competitive and high school games.
Ontario Soccer Complex
The most extensive set of soccer fields in the city lie at the Ontario Soccer Complex on Philadelphia Street. This 20-acre park features two synthetic turf tournament fields, complete with lights for evening games. In addition, the Ontario Soccer Complex offers one more tournament-sized turf field, two adult turf fields and two junior fields. For spectators, a parking lot, concession area, restrooms and picnic tables are also available. The site hosts soccer tournaments for competitive players.
De Anza Park
De Anza Park, located at the intersection of Euclid Avenue and Phillips Street, offers another soccer field for Ontario citizens. This park features a turf-grass field with lights that can be used for soccer or football. The field is used by the city's youth soccer association. De Anza Park also offers guests a community center, a picnic/barbecue area and areas for basketball, softball and volleyball.
Anthony Munoz Hall of Fame Park
Named after the Cincinnati Bengals Hall of Fame offensive lineman, Anthony Munoz Hall of Fame Park holds multiple soccer fields equipped with lights. Ontario's youth soccer organization also plays games at this park, which is located on East Fourth Street. Visitors also have access to a swimming pool, picnic area, community center and sand volleyball court.
Ontario Christian High School
High school soccer players in Ontario may play at Ontario Christian High School on West Philadelphia Street. In addition to high school league games, the fields at Ontario Christian also host the annual Christmas Classic Soccer Tournament. This December competition featured 32 boys and girls teams in 2010. This is not a public park, and outside teams looking to use the facility will have to contact the school.
Photo Credits
Roger Weber/Digital Vision/Getty Images