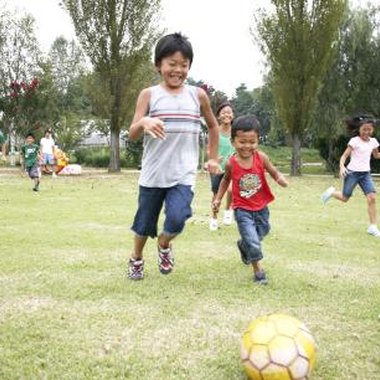 Terrell, Texas, is a town of about 15,000 citizens located 25 miles east of Dallas. Despite its small size, the town is home to the Terrell Soccer Association, which gives children of all ages the chance to learn and play the game. The association also provides the only soccer camp in Terrell, the British Soccer Camps.
British Soccer Camps
In July, the British Soccer Camps are held at Terrell's Ben Gill Park. International coaches lend their expertise to the clinics. Depending on the camp, players receive training in ball skills, footwork and tactical strategies. The kids apply these skills during small-sided games and daily tournaments. As an added bonus for campers, children who sign up online 45 days in advance receive a free soccer ball, T-shirt and British soccer jersey.
British Soccer Camps - First Kicks
British Soccer Camps in Terrell designed the First Kicks program for children ages 3 to 4. This camp consists of five one-hour sessions. Coaches teach young children the basics of soccer, giving them a stress-free introduction to the sport. Parents can accompany their children to the camp. As of June 2011, the camp costs $70, and players choose from a morning or evening session.
British Soccer Camps - Mini Soccer
For children ages 5 to 6, the Mini Soccer program provides a step up from the First Kicks camp. The emphasis is on fun, but children in this program receive more rigorous training to develop fundamental soccer skills. At this camp, players also learn the importance of responsibility and sportsmanship in soccer. The Mini Soccer program lasts five days and each session lasts 1.5 hours. The camp costs $85, as of June 2011.
British Soccer Camps -- Half Day
For children over 6 years old, British Soccer Camps provide a more extensive, three-hour session. The morning session is designed for ages 7 to 10 while the evening clinic is provided for ages 11 to 16. Coaches in these programs help players master the basic soccer fundamentals while further developing advanced techniques. Players receive training in individual or small group settings and test their skills in game situations. As of June 2011, the camp, which is the most attended British Soccer Camp program, costs $110 for a five-day session.
Photo Credits
Seiya Kawamoto/Lifesize/Getty Images