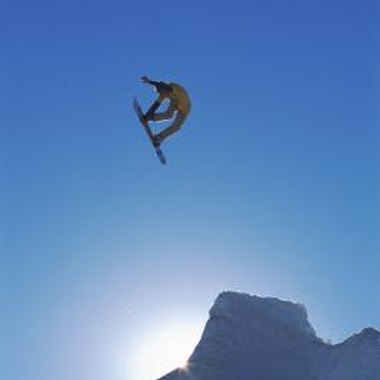 While there are no designated areas for snowboarding in Kentucky, snowboarders from the area can find ample ski resorts offering snowboarding options in neighboring states. From slopes for advanced snowboarders to lessons and rentals for beginners, the states of West Virginia, Tennessee, and Indiana offer options for individuals seeking the thrill of racing across the slops on a snowboard.
West Virginia
To the east of Kentucky, West Virginia downhill ski areas and ski resorts all offer snowboarding. In the Allegheny Mountains, Canaan Valley Resort and Conference Center (canaanresort.com) is a state park boasting 39 slopes, including one with an 850-foot vertical drop. Single, multi-day and season passes are available, as are lessons for beginners and equipment rentals. Snowshoe Mountain (snowshoemtn.com) located in Snowshoe, W. Va., is another option for Kentucky snowboarders. With classes for all experience levels, as well as two snowboarding parks, one of which includes a half-pipe, the resort caters to snowboarders of all skill levels.
Tennessee
For snowboarders in southern Kentucky, Tennessee may offer more convenient options. Ober Gatlinburg Ski Resort and Amusement Park (obergatlinburg.com) is the sole resort area in Tennessee. It offers nine trails accessible by surface, double, and quad lifts. In 2009, a freestyle terrain park was added for snowboarders and skiers seeking new challenges. In addition, equipment rentals and lessons are also available.
Indiana
In Indiana, Paoli Peaks (paolipeaks.com) near Paoli, Ind., boasts varied terrains, including a natural hill with a 300-foot vertical drop and an average hill grade of 10 to 15 percent. Terrains are divided between skill levels, with 25 percent allotted to beginners, 55 percent to intermediate, 10 percent for advanced and 10 percent to experts. In addition, there are more than 100 instructors ready to teach all levels of snowboarding and skiing in both private and group sessions. Rental equipment is available. With 23 trails and two distinct terrain parks, Perfect North Slopes (perfectnorth.com) in Lawrenceburg, Ind., is another option for Kentucky snowboarders.
Considering Safety
Regardless of the area Kentucky snowboarders choose for their winter fun, safety is essential to ensure the experience stays an enjoyable one. While an effective workout and fast-paced enough for adventure seekers, snowboarding is one of the most dangerous winter sports. To protect against injury snowboarders should be sure to wear protective wrist and knee guards to avoid sprains or fractures, as well as hard-shell boots to prevent an ankle fracture termed "snowboarder's ankle." Other precautions include wearing a helmet and avoiding slopes beyond their experience level. Since winter is the season for snowboarding, extra precautionary measures should be taken to protect the body from the cold including adequate layering and sunscreen to protect the skin (see Reference 8).
Photo Credits
Jupiterimages/Comstock/Getty Images