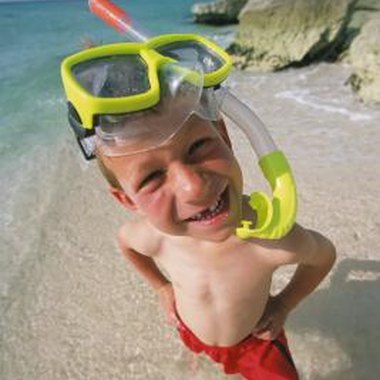 Throughout the world, there are many renowned and breathtaking snorkeling sites to explore. From Australia's Great Barrier Reef, to the shores of the Horn of Africa, to the pristine blue waters of Hawaii, Earth's oceans teem with more diverse sea life and amazing geological wonders than one could see in a single lifetime. South Florida and the Caribbean alone host a number of snorkeling opportunities, whether for couples, individuals or families.
South Florida
South Florida's crystal blue waters and warm weather offer multiple snorkeling spots. Coral Cove Park in Jupiter, Florida is a 2-acre artificial limestone reef designed to attract the diverse population of fish native to the local waters. See a living reef at Biscayne National Park in Homestead, where snorkelers can get up close to colorful fish and fascinating vegetation.
Curaçao
Curaçao Marine Park offers visitors the unique opportunity to snorkle for 12 miles along Curaçao's southern coastline. It starts at Breeze's Hotel and stretches to the eastern tip of the island. Visitors can see ghostly sunken ships, hard and soft coral reefs, and of course a biodiverse population of native fish and sea creatures.
U.S. Virgin Islands
The Virgin Islands are home to some of the most beautiful snorkeling spots and trails in the Caribbean. Snorkelers frequent Cane Bay, a breezy beach on the island of St. Croix. About 137 feet out is the Cane Bay Wall, which drops suddenly into the deep waters beyond. Leinster Bay on the island of St. John hosts a snorkeling site uncrowded by visitors, which snorkelers admire for the waters teeming with sea life.
Cayman Islands
Stingray City (stingraycitytrips.com) in the Grand Cayman Islands gives snorkelers the opportunity to get up close to dozens of gentle, magnificent sting rays. The area is 13 feet deep, which beginning snorkelers will find easy to navigate.
Photo Credits
Comstock/Comstock/Getty Images