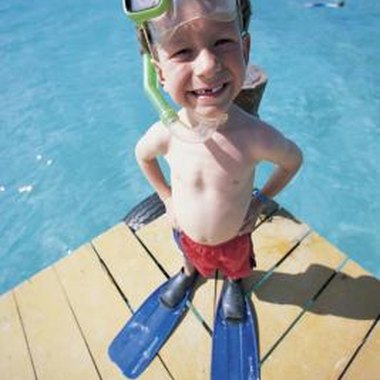 While North Florida may not offer brightly hued Caribbean style reefs, you can explore jetties, find scallops, and -- if you're lucky -- snorkel with dolphins. What's more, most snorkel spots are accessible right from the beach or through a short boat ride. Most recommended sites are in the northeast and the Panhandle.
By the Beach
The entire stretch of Gulf Islands National Seashore is a designated snorkeling area. A good place to start is the Fort Pickens Jetties at the westernmost spot on Santa Rosa Island, Pensacola. Because these jetties are on the bay side, you'll get a different feel than beach-side, and notice deeper tinted waters. If you prefer snorkeling along the beach, consider any of the designated snorkeling beaches of Topsail Hill State Preserve on Santa Rosa Island, Destin-Fort Walton Beach, Okaloosa Island or Panama City Beach. St. Andrews State Park at Panama City Beach has a reputation for exceptionally white sands and emerald water.
Pensacola Fishing Pier Area
It's worth a swim along the Pensacola Beach fishing pier to search for what's been dubbed Jacobi Reef. When they are't covered by sand, you can find concrete pilings just 10 feet under water between pier pilings 15 and 17. Jacobi Reef was named after a local Navy diver and marine conservationist. Moving east of Jacobi Reef, you may find a partially buried shipwreck about 15 feet below the water surface.
By Boat
A half mile walk can get you to the Destin Jetty, but many snorkelers arrive via boat. Another good spot to check out by boat is St. Joseph Bay, where scallop beds lie beneath the swaying sea grass. If you don't have a boat, consider taking a shuttle boat off from St. Andrews State Park at Panama City Beach to Shell Island, where you'll find jetties, coral and, potentially, dolphin.
North Florida
Several state parks in North Florida offer inland snorkeling opportunities. DeLeon Springs, Manatee Springs, Ichetucknee Springs and Peacock Springs offer just what the names say -- snorkeling in spring water. However, the caves hidden beneath the springs lend themselves to recreational and instructional diving more than snorkeling, and each park enforces its own rules for snorkelers. DeLeon Springs, for example, only allows snorkeling in designated swim areas, and Peacock Springs sometimes prohibits snorkeling if water levels dip too low. To make sure you're not disappointed, check regulations at Floridastateparks.org before heading out.
Photo Credits
Comstock/Comstock/Getty Images