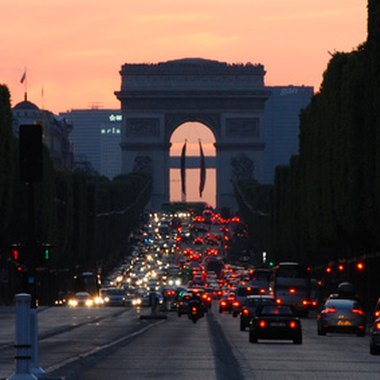 The Arc de Triomphe was commissioned by Napoléon Bonaparte while America was still in knickers and has served as the focal point of French victory celebrations for two centuries. The monument presides over Paris from its site on the hill of Chaillot. Twelve major avenues radiate out from it, including the ritzy Champs-Élysées. This is a prime Paris right-bank location, with convenient access to public transportation, so it is no surprise that small, elegant, expensive hotels abound.
Hôtel Tilsitt Étoile
The quintessential Paris hotel, the Tilsitt Étoile has 38 small, elegant rooms and a die-for location. The Tilsitt Étoile is a three-star, with all the expected conveniences, plus a lounge and meeting room. Breakfast is good, but an expensive extra; bathrooms are tiny but scrupulously clean; service is friendly to friendlier, depending on the day. For an extra French touch, choose a sixth-floor attic room with views of Paris rooftops.
Étoile Park Hôtel
Twenty-eight rooms small, the Étoile Park offers two luxuries difficult to find in the City of Light: large bathrooms and a view of the Arc de Triomphe. Some might claim that the size and furnishings of the rooms are more American than French, but it is hard to argue with double-pane windows that really do kill street noise, charming balconies and a hardy (as in you leave feeling full) breakfast. Three stars, three-star price.
Hôtel Monna Lisa
The Monna Lisa is nicely located on a residential street, one minute from the Champs-Élysées and 10 from the Arc de Triomphe. Given its hefty rates, it is surprising that the hotel has no lobby to speak of -- the downstairs consists of a check-in desk, followed immediately by a restaurant. All 22 rooms are clean and cute, but the "chambres classiques" are tiny, even by Paris standards, while the "de luxe" is much more manageable, and the one suite is enormous with a lovely balcony.
Hôtel Galileo
A three-star priced like a two-star in a four-star location. The Hôtel Galileo offers reasonably sized rooms at a very good price, a hop, skip and a jump from the Champs-Élysées. The elevator is tiny, but the beds are comfortable, the room well-appointed and the hotel very quiet at night. Choose a top floor room for the extra lounge areas and views. In 2010, nearby construction disturbed some guests' morning sleep-in, so ask before you book.
Photo Credits
Champs Elysees and Arc de Triumph image by Tomasz Cebo from Fotolia.com