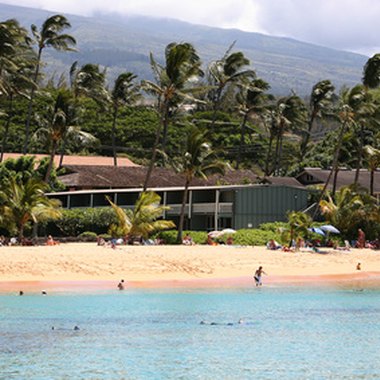 Large resorts dominate the Hawaiian Islands, particularly in tourist hubs like Waikiki and Wailea. However, there are many smaller hotels ranging from luxurious, boutique hotels to small, family-owned ones that offer just the basics. Whether you are looking to save some money or you just want to avoid a crowded resort, you will find several small hotel options in Hawaii.
Oahu
The 10-room Kai Aloha Hotel is a locally owned and operated hotel just walking distance away from Waikiki Beach. The hotel offers two types of accommodations: lanai studios and one-bedroom apartments. The two major differences between the rooms are that the one-bedroom apartments have a separate living room and kitchen, while the lanai studios have a kitchenette and private lanai (balcony). Another small Waikiki hotel to consider is the Waikiki Prince, a 24-room hotel in the heart of Waikiki. Rooms are basic, although some do come with a kitchenette, and all rooms have a balcony. Coin-operated laundry is also available on site.
Maui
If you're planning to make the drive to Hana, the 67-room Hotel Hana makes for an excellent choice. The Hotel Hana offers accommodations ranging from suites to cottages overlooking the ocean. Although small, especially compared to some of the large resorts in Wailea and Kaanapali, this AAA four-diamond award-winning hotel offers many amenities, including a relaxing day spa and on-site dining. If you're looking for a small hotel in South Maui, the 72-room Maui Oceanfront Inn may be something to consider. All rooms offer upscale mattresses for a comfortable night's sleep as well as complimentary high-speed Internet access. True to its name, the hotel is just minutes away from beautiful Keawakapu Beach.
Kauai
Located on Kauai's eastern shore, the newly renovated 21-room Garden Island Inn offers simple decor for someone just looking for a place to sleep. All rooms feature a fully equipped kitchenette, free high-speed Internet access and flat-screen TVs with a range of DVDs from movies filmed in Kauai. If you want to spend some time playing in the water, check with the front desk for complimentary use of towels, ice chests and other beach gear. The Hotel Coral Reef is another eastern shore location fronting the white sands and turquoise waters of Kapaa Beach. Another recently renovated hotel, rooms feature such amenities as flat-panel TVs, and all oceanfront suites have whirlpool tubs.
Big Island
The 15-room Kona Tiki Hotel doesn't offer the kind of amenities that most hotels offer such as air conditioning, TV or phones. In "Hawaii: The Big Island Revealed," author Andrew Doughty writes that they do not even take credit cards. However, what you do get is a hotel room with expansive views of the Kona coastline. Breakfast is complimentary, and the outdoor pool is adjacent to the Pacific Ocean. The six-room Inn at Volcano is a luxurious hotel situated close to Volcanoes National Park. Five of the rooms are themed, and all have private baths. Outside in the lush tropical garden you can find a koi pond and an outdoor hot tub inside a gazebo.
Resources
Photo Credits
hawaii beach resort image by csaba fikker from Fotolia.com