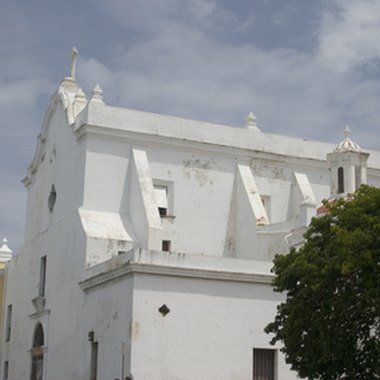 Art and history make up much of San Juan's culture, and the city is rife with maintained colonial buildings and art galleries. The city's community of small hotels reflects this with its emphasis on historical preservation and artistic decor. Most of the area's small hotels could be considered boutiques, while others fall into the category of motel or inn.
The Cervantes
The Cervantes pays respect to its namesake with a Don Quixote theme running throughout. Designer Nono Maldonado used a mixture of antique and modern furnishings, along with work by Puerto Rican artist Carlos Davila, to create the hotel's chic ambiance. The penthouse suite features a raised bedroom enclosed in glass walls, a private terrace and keyed elevator access. The restaurant, Panza, serves free continental breakfast each morning and offers seafood dishes for lunch and dinner.
San Juan Water and Beach Club
The floor-to-ceiling windows at the beachfront San Juan Water and Beach Club afford guests panoramic views of the Atlantic coastline. Rooms sport modern, chic decor, subtle colors and sheer white drapes. The hotel restaurant, Tangerine, reflects the beach club's contemporary aesthetic, with Asian-American-Latin fusion cuisine.
The Beach House
Located on Isla Verde beach, The Beach House provides guests with Indonesian day beds right on the sand. Hotel restaurant Cafe La Plage dishes up Mediterranean and Caribbean seafood fare, like salmon carpaccio. The hotel also has a 90-foot yacht available for charter; boat rental includes staff, meals, gas, insurance and up to three hours of live music.
The Gallery Inn
An artist's retreat, The Gallery Inn is home to artist Jan D'Esopo and has 19 gardens to gather inspiration, as well as five art studios. The 52-room mansion spreads across 23,000 square feet, has a Venetian-style music room featuring chamber music concerts, a two-waterfall swimming pool and a wine deck. The hotel serves continental breakfast and has a tapas menu throughout the day, except on Fridays between 5:30 and 8 p.m.
Hotel El Convento
The eldest member of the Historic Hotels of America, Hotel Convento was a Carmelite convent in the mid-17th century. The 58-room, AAA four-diamond rated hotel has a plunge pool and Jacuzzi, a fitness center, four distinct restaurants and a library. Rooms feature mahogany beams, Andalusian tile and handcrafted furnishings. The hotel also has a central courtyard where guests can relax.
Numero 1 Guest Hosue
Located in the Ocean Park neighborhood, Numero 1 Guest House is one of the few remaining original homes of the area. The hotel's restaurant features an eclectic blend of international cuisine and has an online reservation system on its website. The boutique has a swimming pool with cabana service during the high season.
Casa Blanca Hotel
All of Casa Blanca Hotel's 35 rooms come with iPod docking stations, pillow-top mattresses and natural beauty products imported from Italy. Guests receive a daily pass to Old San Juan gym and discounts at nearby Eden Spa. Before arrival, guests can choose items from a grocery list that will be placed in their room.
Photo Credits
san jose church old san juan puerto rico image by robert lerich from Fotolia.com