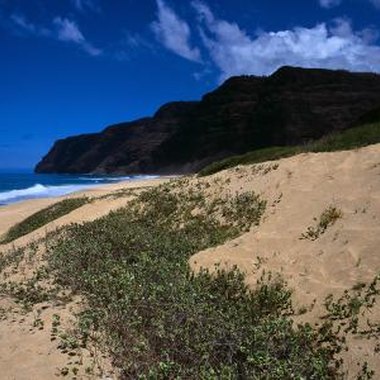 Small, family-owned hotels in Hawaii offer the warmth and intimacy often lacking in larger, commercial properties. Whether you are seeking an authentic dining experience, a vintage or historic building or the intangible charms of spending your holiday hosted by family-oriented innkeepers, all of these small hotels evoke and emphasize "ohana," which means "family" in Hawaiian.
Manago Hotel
A "mauka" (upcountry) landmark since 1917, the Manago Hotel in Captain Cook has been continuously operated by members of the Manago family for generations. Known for its very clean, very affordable rooms, the Manago has also hosted many a new transplant arriving from the Mainland and looking for a place to land. Renting rooms by the day, week or month, the hotel offers a refurbished wing with rooms that have private baths. Or choose the cheap rooms with shared bath. Back when a simple journey just to South Kona was arduous, the inn offered futons and hot meals to grateful passersby. The hotel is known throughout the state for its excellent pork chops, using pigs grown at their own ranch. Free parking is available.
Santa's by the Sea
Santa's by the Sea is located on the North Shore of Oahu, home of big winter surf and the charming surf town of Haleiwa. Enjoy views of mostly uncrowded beaches and the seasonal 20- to 30-foot surf the area is known for worldwide. Family-operated for decades, Santa's offers clean and well-stocked facilities far from the bustle of Waikiki. Free Internet, free long-distance calling and complimentary breakfast items all help guests feel right at home.
Holualoa Inn
Once the outer-island getaway home of a Honolulu publishing mogul, the family-owned Holualoa Inn radiates charm and conviviality. Only five rooms in a 7,000-foot mansion on 33 acres of coffee lands means guests will have an intimate experience amidst luxurious amenities. Tropical hardwoods, Hawaiian art a pool, lush lawns and exotic gardens add to the appeal.
Kilauea Lodge
The Kilauea Lodge and Restaurant, located in 4,000-foot Volcano town on the Big Island, presents a warm, cozy family-owned retreat. Originally a 1930s-era YMCA camp building, the lodge retains its stacked stone walls, fireplaces, stained glass and other charms. Valuable Hawaiian quilts grace the beds, accenting the antiques. The restaurant is know for its outstanding gourmet European dining offerings such as venison and duck. This cool, misty setting is landscaped with native hapu'u ferns, ohia trees and hydrangeas.
Photo Credits
Jupiterimages/Photos.com/Getty Images